What's Better, A Wedding Band or Wedding DJ?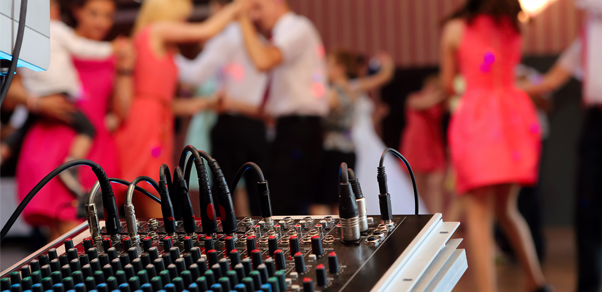 The big question every couple has to deal with when it comes to planning their wedding: do you go with a DJ or do you pay for a live band? There really isn't a correct answer, as either choice can end up being great. However, this article will offer advice to help you make a decision and choose the right option for your special day.
A LIVE BAND
If you have a very particular theme for your wedding—like a country theme—and your budget is flexible, then you might consider hiring a band. If you're able to find a talented band that fits with the theme of your wedding, then you're set for the whole evening. The great thing about a talented band is that they know how to keep the party going—they will play stellar music and make sure your reception is fun, and that all of your wedding guests stay on their feet for the whole evening. 
However, there are a few downsides to hiring a band—namely, their size. Most bands need a whole mess of equipment, and if space is at a premium, you might have some trouble fitting everyone into your confined venue. Also, bands are expensive—but if you have the cash and space, a band can really help you to keep the party lively for the entire evening.
HEY MR. DJ
Choosing a DJ for your reception is often the more realistic option. DJs are not as expensive as a band, and can play a wider range of music on cue. Plus, a DJ (even with all the equipment) can still fit into a confined space. Furthermore, if you happen to hire a really talented DJ, then you know that he or she will help keep all of the wedding guests engaged and having fun. 
That said, a terrible DJ can really bum the wedding guests out, so before hiring a DJ, make sure to check out his or her credentials. In fact, if the DJ happens to have a demo video of one of their pervious performances, that's even better!
Whether you end up hiring a DJ or a band, we're positive that you're going to have a great time on your wedding day. Enjoy!