Los Angeles Wedding Venues at the Chester Washington Golf Course
At Chester Washington Golf Course, you will find one of the most exquisite wedding venues in LA. We specialize in creating unique outdoor weddings for your special day. Your outdoor wedding ceremony for up to 300 guests will take place under a flower-laden archway perched on an expansive, green lawn.
Chester Washington, one of the best venues for weddings in the Los Angeles area, features rows of white, wedding chairs that will line each side of the aisle, completing your picturesque LA ceremony scene. Your guests will enjoy watching you exchange vows before sweeping views of a meticulously maintained golf course. The banquet halls feature beautiful banquet rooms that are spacious, radiant, and airy—with natural light pouring in from floor-to-ceiling windows.
The neutral décor of each room lets you customize with flowers and linens that suit your tastes. Against the backdrop of rolling greens, majestic trees, and abundant multicolored flowers, you'll be enveloped in a truly elegant interior when you choose Chester Washington Golf Course from the other wedding halls in Los Angeles. If you want your special day to be something to remember, Chester Washington is the perfect choice for you.
Visit with our event planning team today and discuss the costs of the venue, plan your visit, and discuss amenities further. We're one of the LA area's most beloved venues because we've made so many lasting, wonderful memories. We look forward to meeting with you!
Venue Details

1818 Charlie Sifford Drive
Los Angeles, California 90047

(323) 756-2516
View Map
Total Square Footage:
3,500
AV Available:
Yes
Ballroom Height:
15 ft.
Can Blackout Date:
Yes
Maximum Capacity:
450
Prefunction Space:
No
Valet:
No
Special Event Packages:
Yes
Dance floor is included with the room

Private fully stocked bar

Private patio attached to banquet room and bar
Boneshia Perri

Private Event Director

(323) 756-2516, ext. 27
Event Spaces & Ceremony Sites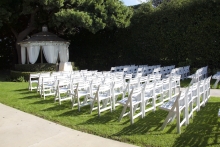 The ideal spot for golfers, our Clubhouse features a fully stocked Pro Shop, as well as a café and bar. Outside the bar, golfers can relax on our shaded patio, or talk shop with some of our instructors. Relax after a round with friends, or meet up with your family for some lunch—the Clubhouse is yours to enjoy.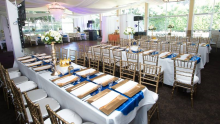 Featuring lovely natural shades of celadon and lemon, The Lounge isn't your typical golf course bar. Well lit, welcoming and lively, the Lounge offers floor-to-ceiling windows with sliding doors that let out to a patio, as well as an oak-bead board bar. Enjoy a few drinks after a round of golf, or host a business meeting on the patio while you take in the view.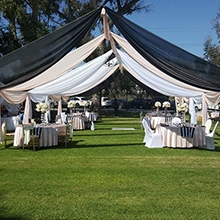 Our spacious and attractive tent space provides endless possibilities to host a reception, or event for all to enjoy. Placed on the lawn just off to the left of our 8th Tee, the space can accommodate up to 250 guests with a 20x20 dance floor, ceiling draping and lighting. Other options for a tent space would be on our garden ceremony site, highlighting the gazebo for a backdrop, and seating up to 150 guests with the 20x20 dance floor, or alternatively, the tent can be used as an extension to our ballroom if you are looking to accommodate more than 300 people. The sliding doors and ceiling draping will create a majestic illusion of cohesiveness. Many additional accents to the room are available upon request, including chandeliers, full draping, up-lighting and lanterns.
Wedding Venue Client Reviews
"Had a beautiful wedding and it was truly a one stop shop."

"Been having our holiday party at Chester Washington for the last past 6 years been working with the same staff every year... they just make us feel at home"