What stone best fits your finger shape?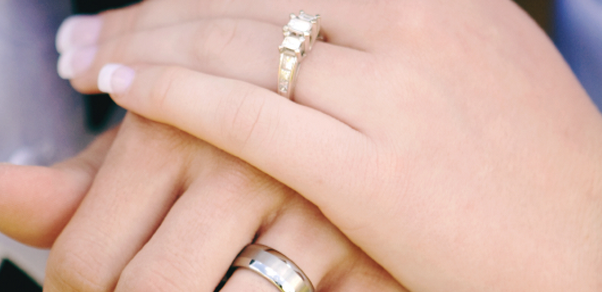 Congratulations on your engagement! One of the most exciting aspects of your wedding is choosing your wedding band, as this is not only a symbol of your love for your new partner, but also a piece of jewelry that you will wear for the rest of your life, during the majority of your daily activities.
That said, there are of course a few important factors to consider when choosing a ring that will last a lifetime. We're focusing here on one of those aspects: the shape of the ring and whether it will complement your hand and finger shape.
When evaluating rings, here are a few thoughts to keep in mind.
Elongated styles, such as pear, oval, or marquise, look best on shorter fingers. It's more flattering to go with a thinner band if you have a shorter finger, to give the illusion of a longer one. Women with longer fingers may enjoy square shapes, such as a princess or radiant cut, to make their fingers appear shorter.
Heart and round shapes are better for larger fingers. For such women it is best to avoid slender, delicate ring settings or narrow, diamond shapes like the emerald or marquise, as they may not look proportionate.
However, ultimately remember that it's your ring, and your choice on style and shape. So happy shopping and congratulations on this exciting time in your life! If you are ready to take that next step and look into private event venues or reception and ceremony sites, please contact me and I can help guide you through what you need to do to begin!