Wedding Bar Set-ups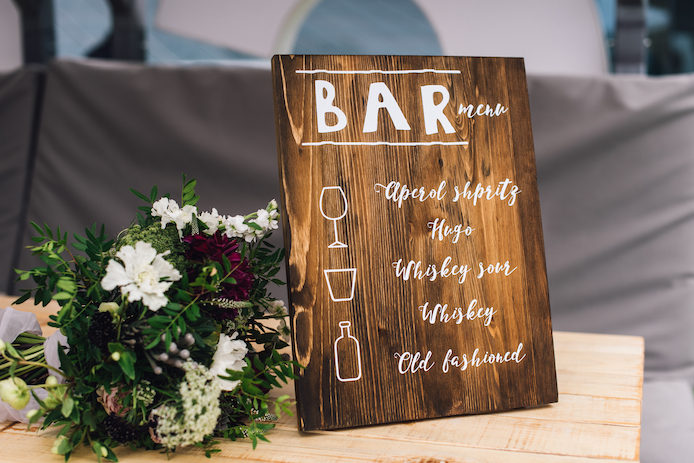 Alcohol can be one of the largest expenses of a wedding reception. If you're trying to throw a great party without breaking the bank, it might be in your best interest to consider bar set-ups other than your typical open bar. Don't fret though, your family and friends are attending your wedding to celebrate you, not to drink. You will still have an incredible party, even if alcohol is not unlimited!
Here are a few of the ways to set up your wedding bar:
Hosted Bar by the Hour
If you know your guests are big drinkers, you want to have a no-holds-barred party, AND you have room in your budget, an "open" or hosted bar might be your best option. You and your guests can drink the night away without worries. However, beware: it's costly and you run the risk of guests having too much fun. Guest safety is more important than a few hours of fun.
Hosted Bar Tab
If not all of your guests are heavy drinkers, you may consider having a limited hosted bar. You can save money in the long run by only paying for hosted beer, wine, champagne, or house brands. Guests can have the option to purchase their own high-end cocktails from a cash bar.
Cash Bar
Choose this option if you are trying to save the most money possible. Hiring a bartender for their service alone is relatively inexpensive. Your guests will pay for their own drinks, thus saving you oodles of money!
Other Money Savers
When coordinating bar services with your bartenders or venue, see if there is an option to bring your own liquor. The bartending service will provide the mixers, ice, and equipment. You bring the booze! This can save you a ton of money because you can shop for exactly what you want at large retailers with wholesale prices.

Skip the champagne toast. Instead of splurging on bottles of bubbly, have guests drink whatever they're already holding for your wedding toasts.

Have a signature cocktail! Instead of providing a bar full of spirits, do basic beer and wine along with a specialty cocktail (or two). You can have a couples' cocktail, or you can have a Bride's and Groom's cocktail. Bride/Groom cocktails are fun because you can see whose drink was the most popular at the end of the evening.

If you want a party but are worried people will take advantage of the open bar, leave a few drink tickets at each seat. Once guests have used their two or three tickets, they can pay cash for their next drinks.

If you're really trying to save money, having your wedding on a weeknight, Sunday evening, or during the day will all contribute to less alcohol consumption. Having your wedding during the day or on those days can also save you money in other aspects, such as vendor and venue costs.