Is A Unity Ceremony Tradition Right For You?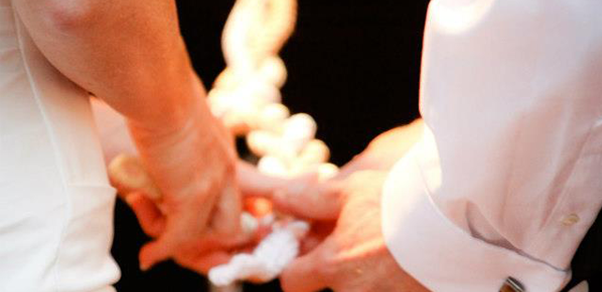 These days, it is standard practice to include some sort of
Unity Ceremony
during a wedding
, but where did we come up with the idea and is a unity ceremony tradition right for you and
your wedding
? The Unity Trend came from a tradition in Great Britain where couples would pledge their betrothal by joining hands, his right to her right, his left to her left, so from above they looked like the infinity symbol. This was done in front of witnesses and was called "handfasting."  
In more recent traditions there are several ways to fulfill the "unity" between a bride and groom. These range from candle lighting, pouring sand, braiding a rope, etc. Here are a few examples of recent Unity Ceremony Traditions, so you can decide if a Unity Ceremony Tradition is right for you.
The Wedding Candle
A popular Unity Ceremony Tradition involves lighting a candle. The side tapers represent family or individual candles. The flames are you and your ties to your family, while the middle candle (the Unity Candle) represents your marriage and new family. As the two flames merge into one and can no longer be separated, so are the bride and groom joined as one in marriage. The side tapers may be blown out to represent the start of your new life as a couple, or they may remain burning to signify the continued ties to your family, or the retention of your individuality.
The Unity Candle is not necessarily a religious symbol and is not identified with a particular religion or denomination, although religious readings or prayers may be incorporated within Unity Candle ceremonies. 
While these candles have been the primary choice for unity ceremonies during weddings, recently a few contenders have also entered the field.
The Sand Ceremony
Possibly the second most popular choice, a sand ceremony, provides the couple with several ways to customize and be creative. Some interchangeable options include the glassware you use, the colors of sand you choose, and who you involve in the ceremony itself.
The Braided Rope
This ceremony is often chosen by couples of faith to reflect their beliefs that a marriage does not just involve the bride and groom, but also God. The practice is taken from a verse in Ecclesiastes that says, "Though one may be overpowered, two can defend themselves. A cord of three strands is not quickly broken." The bride and groom braid 3 cords together while the pastor, who is a symbol of God, holds the ring in place. The resulting braid is something that they can hang in their home as a reminder of their commitment to each other!
Another idea to consider is to incorporate family into your ceremony. 
Parental Honoring
Parental Honoring is an optional, but a well-honored, tradition. This ceremony tradition can also be customized to include grandparents and stepparents.
Traditionally, parental honoring is done at the reception. The bride and groom make an announcement to express their gratitude for the parents, either before or after the best man/maid of honor toast. This can also be done during the actual ceremony as well. Below is an example of how you may want to honor your parents during the ceremony:
WEDDING OFFICIANT: "BRIDE and GROOM wish to let BRIDE'S MOTHER and FATHER and GROOM'S MOTHER and FATHER know how much you mean to them and how important you have been to them from the very beginning. As you have watched and guided them and encouraged them to be the people they are today, so too have you been there when they found each other. And it is fitting that today they are here before you, as they have always been, to ask you to witness their joining. They ask that you will still be there to guide them, to be there in difficult times and joyous ones, to be there for their children and to give them your guidance too. You see, this marriage is a marriage of family and BRIDE and GROOM acknowledge that their families are now uniting."
Other ways to honor parents:
Handing a rose to your soon to be mother-in-law and father-in-law (you could ask your florist to have 2 roses unfastened on your bouquet and then pull them out when you reach the front of the altar).

Prior to the ceremony, place a personalized handkerchief and a rose on both mothers' seats. The handkerchief will be a wonderful keepsake and remembrance. Or, you could include a special personal note of thanks with the rose or handkerchief.

Have your mother's bridal bouquet duplicated. Find some pictures of her wedding and give them to your florist. (This is especially sweet if you are honoring a deceased parent.)

At the cake table, include framed pictures of your parent's wedding, and even your grandparents wedding too!
However you choose to reflect your unity on your wedding day, be sure it captures you and your partner, whatever your special circumstances. Every union is unique, and we love it when couples express their individuality.