Real Wedding - Maybel & Rob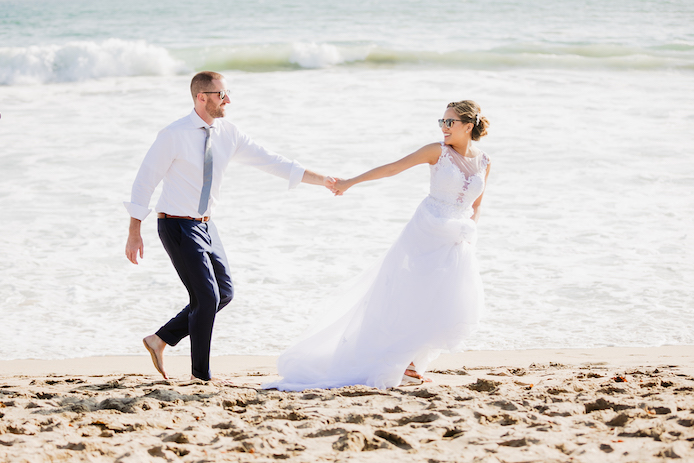 When/Where did you meet?
We met in September 2015 through the dating app OkCupid, but it was really faith that brought us together and not an algorithm! It said we had a 3% match rate. I think we are 1000% because we had an instant connection and it wasn't long for us to figure out we were soulmates.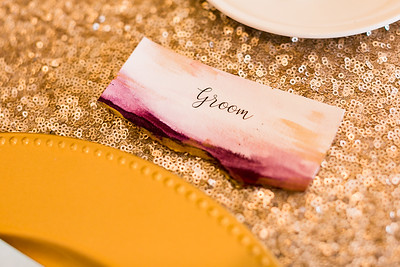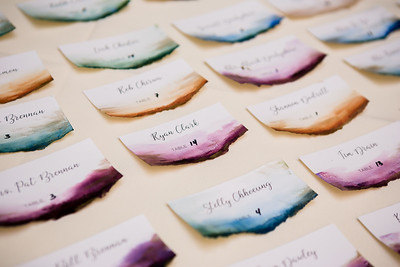 Tell us about the engagement day/proposal!
We got engaged on August 11, 2017. It was a Friday night and I had just come back home from happy hour with my girlfriend who had just gotten married a few weeks before (shoutout to my Bridesmaid, Deanna!). It was funny because we were talking about weddings, and when do I think my turn would be, and she was saying she can't wait until its my turn. I took the train home and Rob was home early to pick me up from the train station and take me home. Rob was acting completely normal, telling me about his day and asking what we should do for dinner. I responded with Pizza, of course. We finally got home and I was ready to relax for the weekend and enjoy a quiet Friday night with him. I had gone into the bedroom, and when I emerged I caught Rob acting a bit funny, like I had caught him doing something and he was surprised to see me. I asked him what was wrong, and he said, "Nothing!", then he came over to me and wrapped his arms around me and was saying sweet things like "do you love me? I love you, you're my soulmate." And I responded with "uh huuh" (totally normal we do that all the time). As I was hugging him, he started telling me that I'm his best friend and he can't imagine his life without me, and I'm like "okay..." and at that point I started thinking, wait is something happening? And when I looked at him, he started to get down on his knee, and I was screaming OMG! I fell down to my knees too and crawled into his arms not facing him. He brought the ring around me to show me as I was curled up into him, and I was like "Wow! That's my ring?!" Finally, I calmed down and said "Yes, of course!" Our living room is now our engagement room.
From then I learned that his mom passed down to him her aunt's ring, and with the help of my friend Kathy (who was my Matron of Honor), he placed the diamond in a new halo setting for me. He had shown my mom the ring months before to ask for her blessing. Everything was perfect!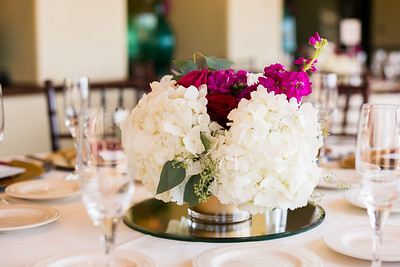 What was the deciding factor to have your wedding at SeaCliff?
The Event Staff! I started looking in September 2017 for a venue and I knew I had to have 8-18-18 as our wedding date. I knew this was a popular date and venues were booking up quickly. I had used The Wedding Spot to help me find venues and send my inquiries. Keely from SeaCliff responded to my inquiry immediately and sent over details of their packages. After a week, she followed up with me as she promised to see if I'd gotten a chance to look at the packages. I responded and let her know that I live in San Francisco, but would actually be in town that weekend and asked if she was available to see that Sunday. She made herself available and I met her that Sunday at 5:30pm. Our meeting lasted 3 hours and we animatedly looked at the packages and brainstormed ideas for the wedding getting more and more excited as we added things. Our must-haves for the wedding was to have a roasted pig, and a sparklers exit, in which she said "Absolutely!" We even told her that the groom's favorite beer was Ballast Point Grapefruit Sculpin, and she said she could get us a keg of that. Everything we asked if we could do it, she responded with "No problem!" SeaCliff's packages are so complete. They've really thought of everything, from food, drinks, service, and even details like chiavari chairs and gold charger plates. They can do it all, which makes it so easy for anyone planning a big wedding. The food choices were all excellent, and hard to pick just a few! We chose the Ever After Wedding Package: Plated and added on late night tacos and ice cream!
In the months leading up to the wedding we got to work with Renee and Victoria to help put together all the final details. We were even able to add a sequined linen for the sweetheart table and cake table. We even had free reign to pick what kind of signature cocktails we wanted. We picked mango mojitos and blackberry vodka lemonade as our His and Hers cocktails to pay homage to my Filipino and his Massachusetts heritage. They made the planning process infinitely easier for me who lived across the state. Each time I sent an email with questions, they responded to me within a few hours. Chris the Food Director was also a pleasure to work with and great to talk to. Whenever my mom and I would drop-in, they always welcomed us with excitement and made us feel like we were well taken care of. We could not have asked for a more friendly and professional team to work with, and though they have weddings and events every weekend, they made us feel as if our event was the most important! We cannot be more proud to have chosen SeaCliff to hold our Wedding!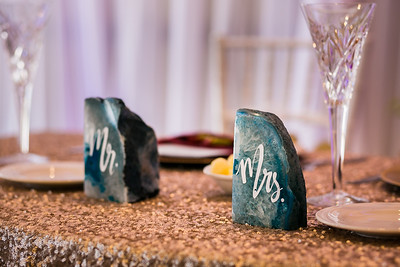 What are some the challenges that you faced planning your wedding?
Us living 400 miles from our wedding location! SeaCliff made things easier by having a stellar preferred vendors list in which we were able to choose our awesome DJ (Station Identification) and find the amazing Great Dane Bakery for our custom cake. If it wasn't for my mom living in the area and available to help, it would have been more challenging.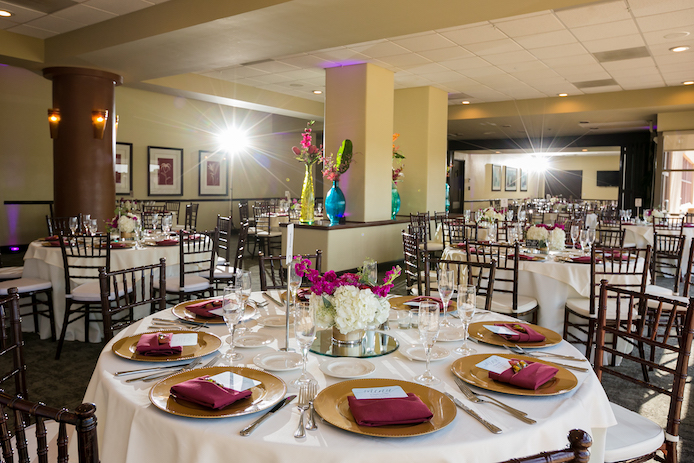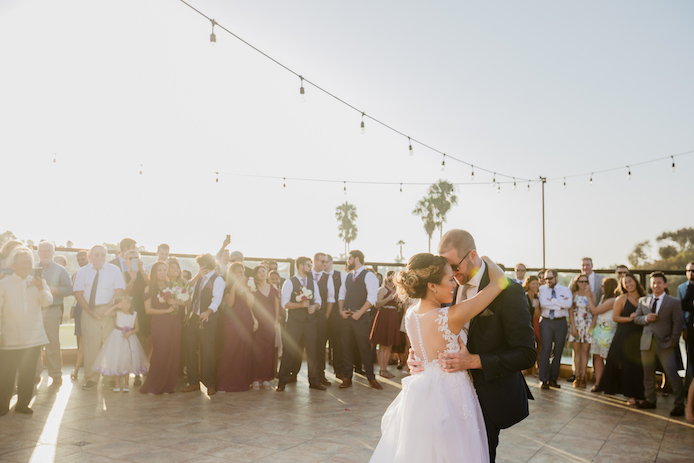 What were the highlights of the ceremony?
We actually chose to have our ceremony at our Catholic church in Lake Forest, and it was beautiful and full of traditions.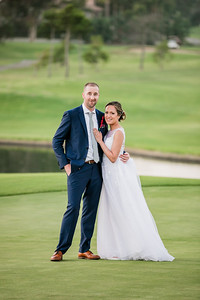 .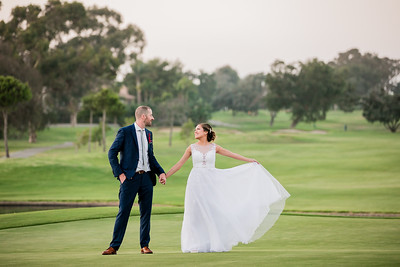 What were the highlights of the reception?
Hard to narrow it down! Everyone loved the food, especially the roasted pig! Everyone kept telling us how delicious and mouth-watering it was, and I was surprised that the chef even threw in some garlic rice to go with it! We didn't even ask, and it was so thoughtful he did that. Filipinos love garlic rice! The guests were well-fed and no one went hungry. My favorite part was doing our first dance out on the oval terrace. I keep re-watching videos of us dancing to our song and everyone around us watching and cheering us on, but all we see is each other. It was so romantic and I felt like we were in a romantic movie. People keep telling us we look so in love. Also, walking in to see the reception décor for the first time and seeing how everything was set up, and thinking Wow! Just seeing the vision come to life finally after several months of planning. Victoria did an amazing job displaying everything!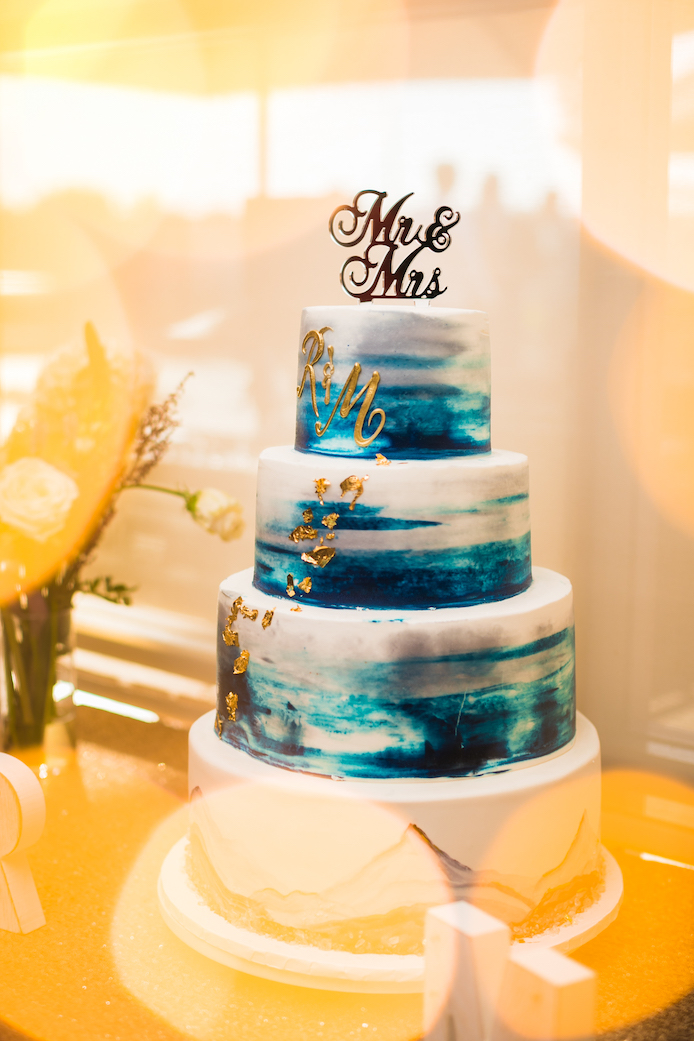 What was your favorite part of the entire day overall?
Getting married to my best friend in front of all our friends and family who traveled from all over the world. We had guests from Dubai, Canada, Ireland, Massachusetts, San Francisco, San Jose, Indiana, Chicago, Seattle, Montana, Vermont, Florida, and Pennsylvania. It was a destination wedding for a majority of our guests, and many of them have never been to Huntington Beach before, much less Orange County. Rob and I felt proud to share this special place with everyone and show them a beautiful beach weekend in California. It was our dream wedding and the best day of our lives! 
Vendor Love
Photography: Sarah Mack
Videographer: Keida Brewer
D.J/Entertainment: Station Identification: DJ Stephanie
Venue: SeaCliff Country Club
Wedding Dress: Maggie Sottero from Panache Bridal, Costa Mesa
Shoes: Badgley Mischka
Flowers: Oceanic Flowers
Escort Cards and Signage: Bellevue Floral Co.: Christina Yan
Hair: Hannah Stuckenbrock
Make-up: Julie Patel
Groom's Suit: Hugo Boss
Groom's Shoes: Allen Edmonds
Cake Company: Great Dane Baking Company
Event Date:
Saturday, August 18, 2018