Real Wedding - Cambry & Sean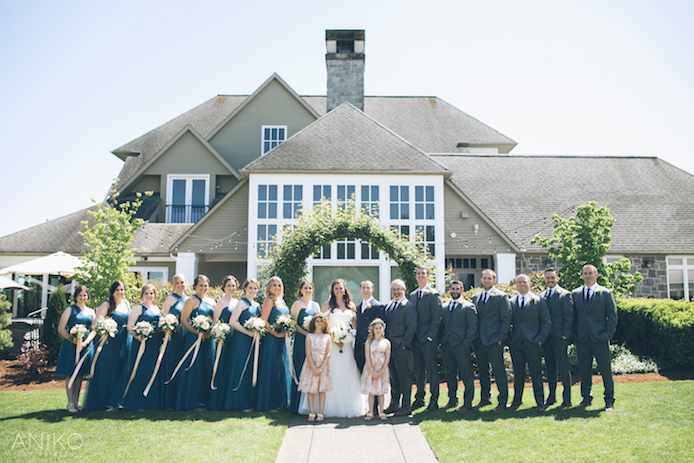 Where did you meet?
We met online! Our first date was in downtown Portland for dinner and we spent the evening talking and laughing - a few days later we went on another date on New Years Eve and I knew he was someone special after he spent the evening singing classic Disney songs and 90's pop hits to me. The rest is history!
How did Sean propose?
Sean planned a very intimate proposal at our house. He surprised me when I came home from work during Christmastime. Our then 2-month-old golden retriever puppy and our 3-year-old golden were waiting with him. There were flowers in a sentimental vase from my late mother on the table and a song from the first concert we went to playing in the background. There was a card 'from the pups' on the table; one told me "Dad has an early Christmas gift for you in your stocking." As I went to pull the box out of the stocking, he took it from me and got down on one knee. We were both a crying mess as he got out the words, and I could hardly get my "Yes!" out! It was such a perfect and emotional proposal!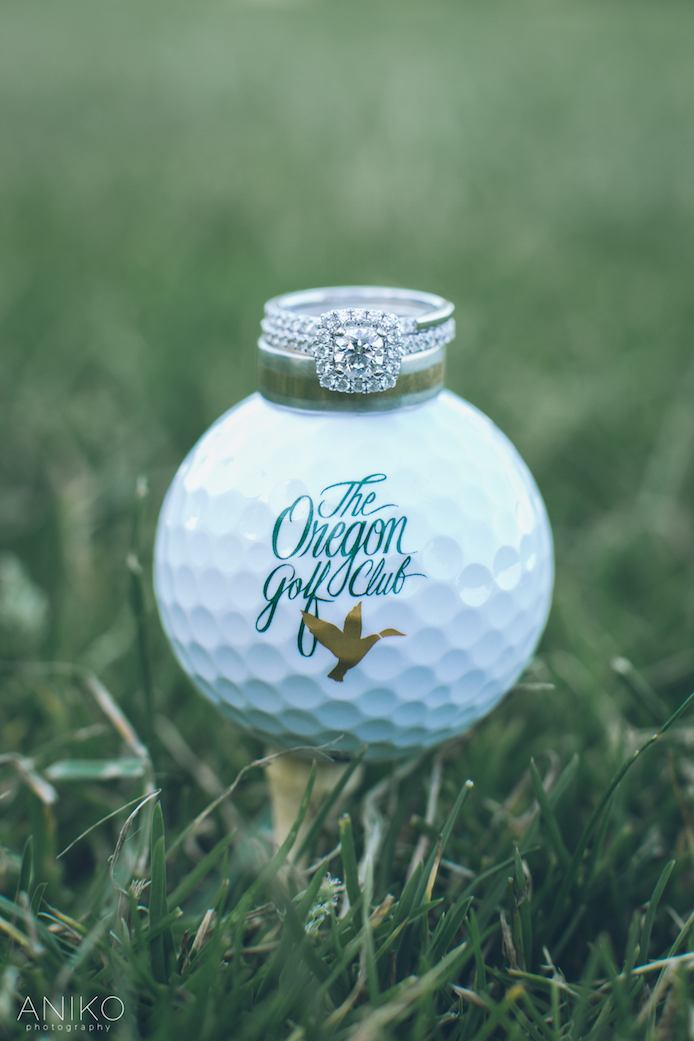 Why did you choose The Oregon Golf Club?
Golf was a big part of Sean's life growing up and we really wanted a venue that could capture so much of the beauty that Oregon has to offer and also include that golf element. We also knew that we wanted the ceremony and reception to take place all at one venue. The Oregon Golf Club was the first and only place we toured. We loved it! The views of Mt. Hood and the scenic pine trees and mature course are so beautiful. The Rose Garden, where we held our ceremony, is gorgeous with the flowered/greenery arches. We loved the idea of having an outdoor ceremony with an indoor reception. The pavilion is one of the most amazing and versatile indoor venues I've seen. The draped ceilings and chandelier are so perfect. We loved that we could transform that space into the classic but still fun and unique wedding reception we wanted. We also loved the beautiful grounds and clubhouse of The Oregon Golf Club. The Bride and Groom's rooms to get ready in were great to have. We loved the course so much that we ended up joining the club just before we actually got married!
What was the biggest challenge you faced during wedding planning?
The biggest challenge we faced was not realizing how much people actually have to come together to make the day possible. One of the best decisions we made during the process was hiring a wedding coordinator. We couldn't have done it without help from her and the event coordinator from the Oregon Golf Club. It truly does take a village! But it is SO worth it!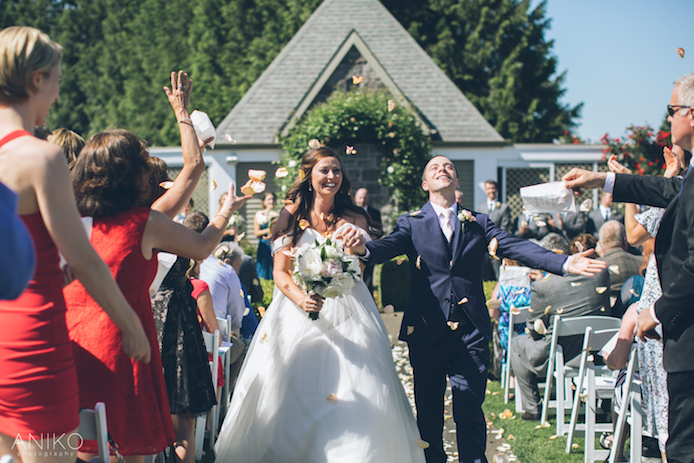 What were the highlights of the ceremony?
We reallywanted to ensure our ceremony felt like us. I grew up playing the violin and it has always been a large part of my life. We had a string quartet learn some of our favorite 'modern' and meaningful songs to us and used those during the ceremony. Sean and his groomsmen walked down the aisle to an instrumental cover that was a part of our proposal. We included our 2 dogs as our 'dog bearers' in the ceremony as well. Sean's family is Irish, and we wanted to include some of those Irish traditions. So we incorporated a handfasting ceremony that was so meaningful and included both sides of our families tying the knot together. Sean's uncle was our officiant and said the most beautiful words and readings during the ceremony. We also wrote our own vows, which were so raw and really helped it feel like our moment!

What were the highlights of the reception?
We loved the entire evening! But, when Sean was in college (as well as after college), he used to play 90's 'sing-a-long' songs in his room after a fun night out. Everyone would end up in his room by the end of the evening dancing and singing. At some point this was dubbed 'Club Leahy.' After I became a part of Sean's life, I also got to experience this 'Club Leahy' and how much fun we all had. We both knew we would want to bring 'Club Leahy' to our wedding. We made a large LED backlit sign with the help of one of my closest friends and Sean's aunt & uncle. We revealed this sign once the dance party really got started; and as the 'beat dropped' our bridal party set off confetti canons onto the dance floor. We had glow sticks for all of our guests and we danced the night away in the best Club Leahy yet. Having an amazing dance party with our family and friends was by far one of the best parts of our reception!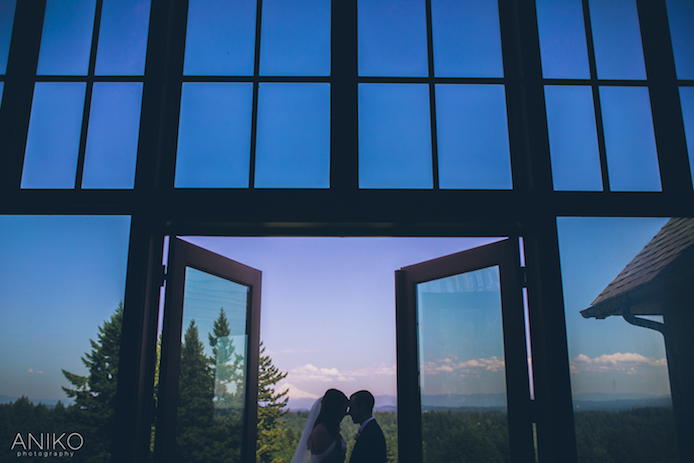 Vendor Love
Venue - The Oregon Golf Club
Photographer - Aniko Productions
Videographer - Moving Pictures 
Wedding Planner - J29 Events
Event Rentals & Décor - Barclay Events, Something Borrowed
Florals - New Seasons
Wedding Cake & Dessert - Sweetstory Bakery, VooDoo Doughnuts
Wedding Dress - Kenneth Winston; Ella Rosa
Bridesmaid's Dresses - Jenny Yoo
Groom & Groomsmen Tux's - The Black Tux
Hair & Make Up - King Cardoza Studio
Wedding Officiant - Patrick Leahy
DJ & Photo booth - Event Team Entertainment
Invitations - Bubbly & Bliss; Kristin Slotnick