Real Wedding - Adriana & Juan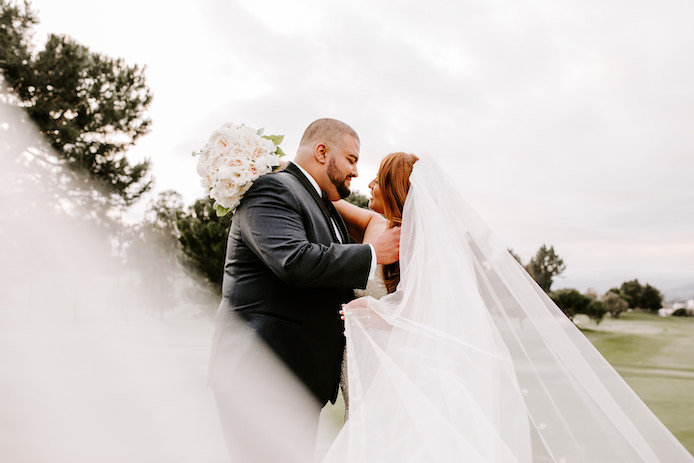 How did you meet?
Juan and I knew of one another for years prior to formally meeting. We would wave hello in passing, but never exchanged words until one day I visited with a mutual friend of ours for game night and Juan happened to be there. Finally, we were formally introduced and clearly hit it off because we talked, laughed, exchanged numbers (actually BBM messenger) and haven't stopped talking since. At the time, I was living in Orange County and Juan in the Valley.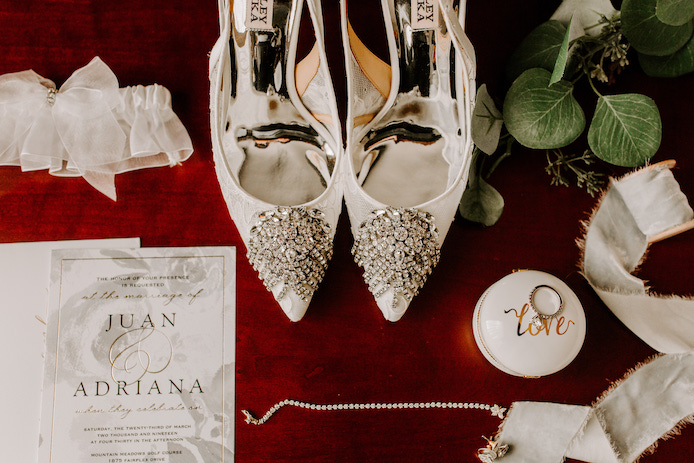 How did he propose?
Juan surprised me by asking me to marry him at his 30th birthday party.
The party was almost over and the cake was brought out.  We sang happy birthday to him and he blew out the candles. The entire time I was standing next to him because our friends and family wanted to "take a picture" of us.   He thank everyone for celebrating his birthday with him and then directs his attention to me while still talking and suddenly he got down on one knee.
I was caught by complete surprise because we were flying out to New York the following weekend and the thought of him proposing in New York crossed my mind. Little did I know New York was planned to celebrate our engagement.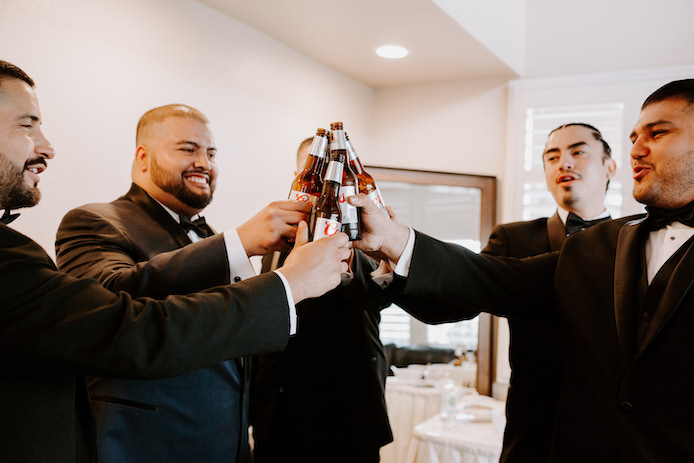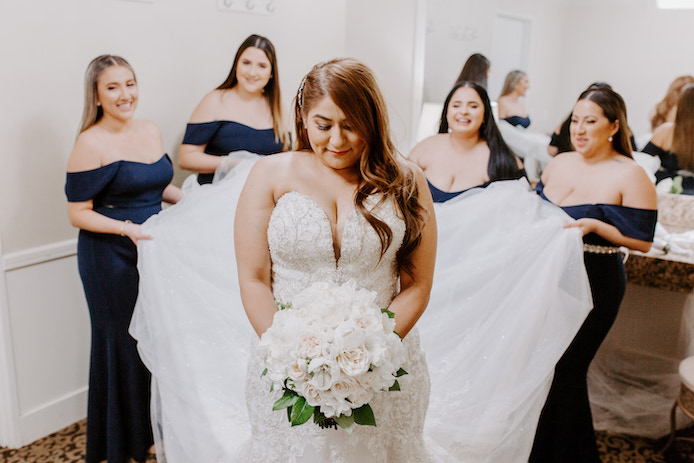 Why Mountain Meadows?
We chose Mountain Meadows Golf Course because we feel it has that timeless, romantic and elegant look to it. The chandeliers, drapes and the lights hanging gives it the romantic feel we were looking for our wedding venue, and the location was perfect for most of our guests coming in from Orange County and the San Fernando Valley.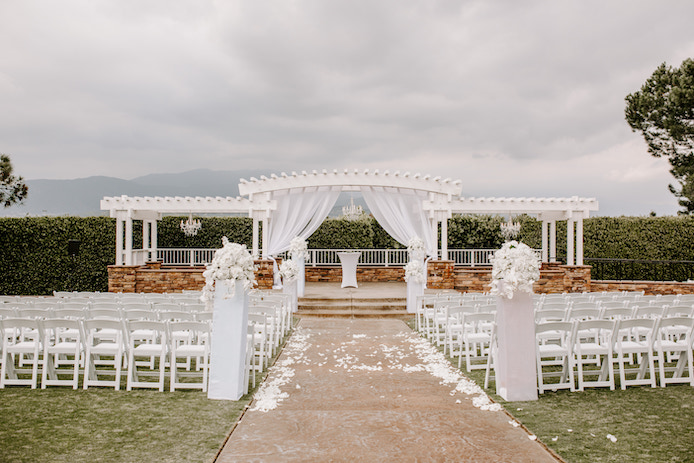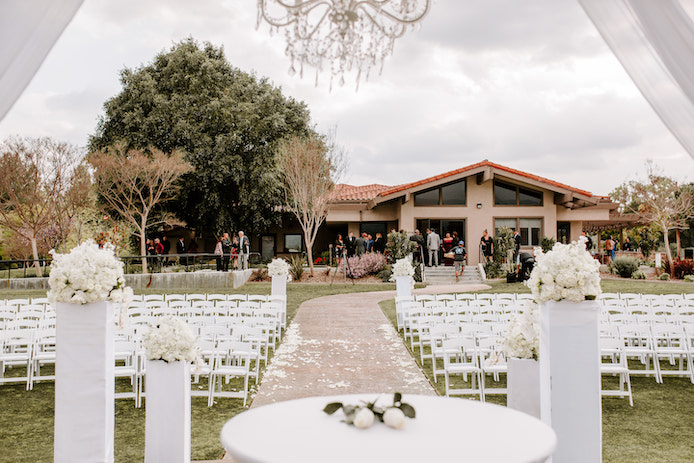 What were some challenges you faced during the wedding planning?
Setting a time and date to meet with all of my bridesmaids at the same time was a bit challenging because they weren't always all available at the same time and not to mention they all live an hour away from me.  As a bride you would like to enjoy and celebrate all wedding planning milestones as much as possible with your girls but you also need to be understanding and remember that we are all working adults with priorities and families to attend to.
At the end of the day, I was very grateful that they were all able to join me on my first wedding dress shopping experience, the bridal shower, the bachelorette and last but not least stand by my side at the altar.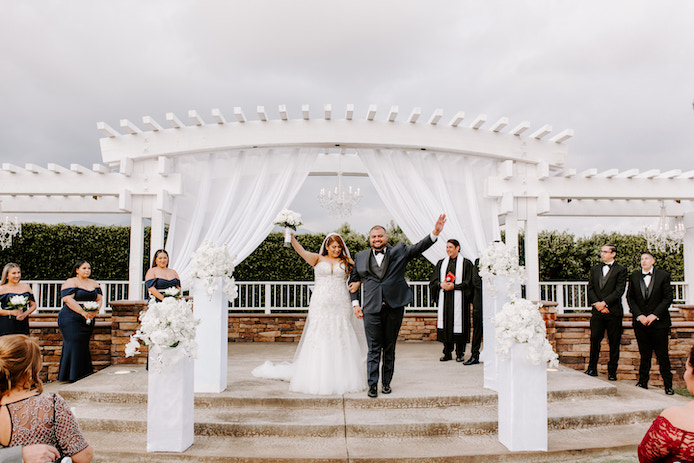 What were the highlights of the ceremony?
It was such a humbling moment seeing all of our friends and family come together and celebrate our marriage ceremony with us.  The love and support through the look in their eyes while we said our "I Do's" was definitely one of our ceremony highlights, but our biggest highlight was the moment that Octavio (officiant) pronounced us husband and wife.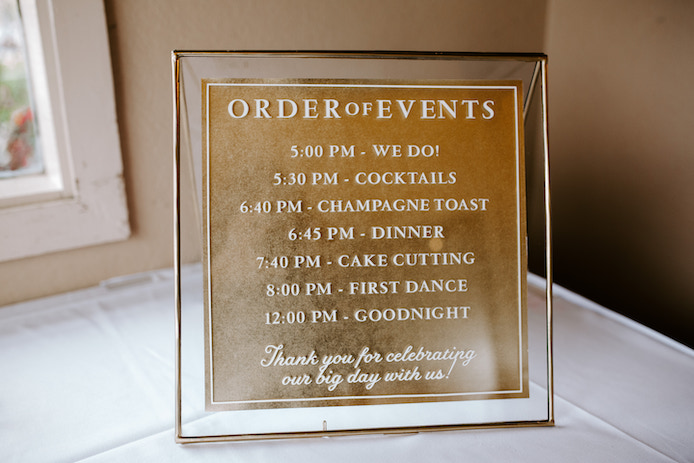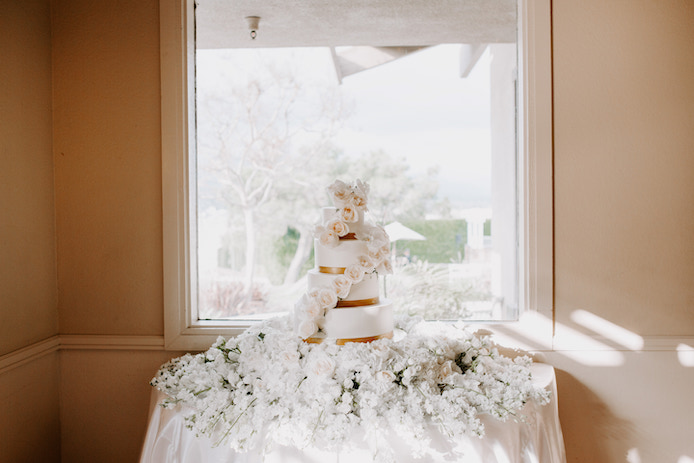 What were the highlights of the reception?
We were told in the months leading up to our wedding that the day was going to go by so fast and that it was easy for the day to go by without taking a moment to take it all in. With that in mind and with the help of Adilene (photographer) and Tony (videographer), Juan and I made sure we made time to take in the moment and check in on each other throughout the day but especially during our reception. A few of our highlights during our reception were definitely while taking in the moments. Our first dance as Mr. & Mrs. I remember feeling my tears coming while looking deep into my husband's eyes (sounds cheesy but it's true) and just hugging him tight while dancing our first dance. The mother and son dance was very touching and filled with so many beautiful emotions, no one could stop crying.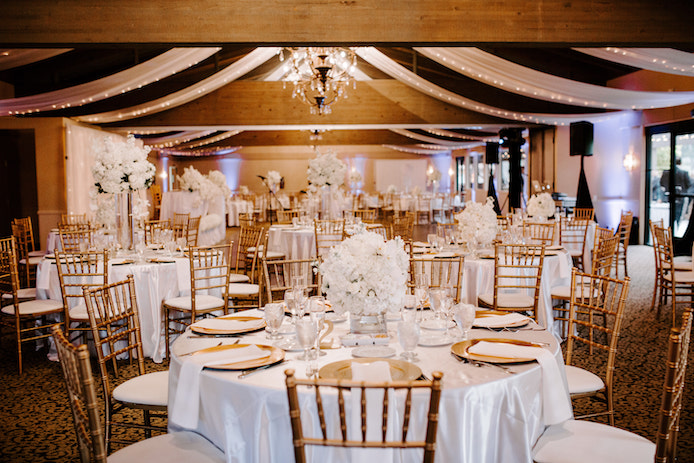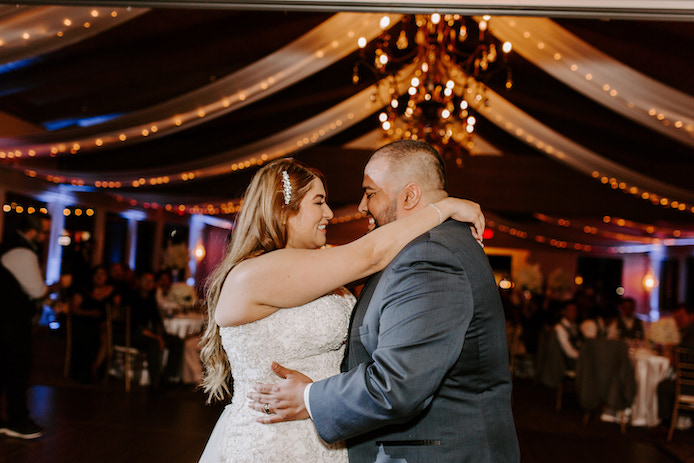 Another of our highlights during the reception was while we were taking in a moment to ourselves.  We were standing right outside the venue looking in through the windows and watching everybody having so much fun dancing, talking, laughing and drinking (some drinking more than others). We looked at each other with a smile and decided to join the party! 
As stressful as the weeks and days were leading up to the wedding day, every gray hair we grew was worth it!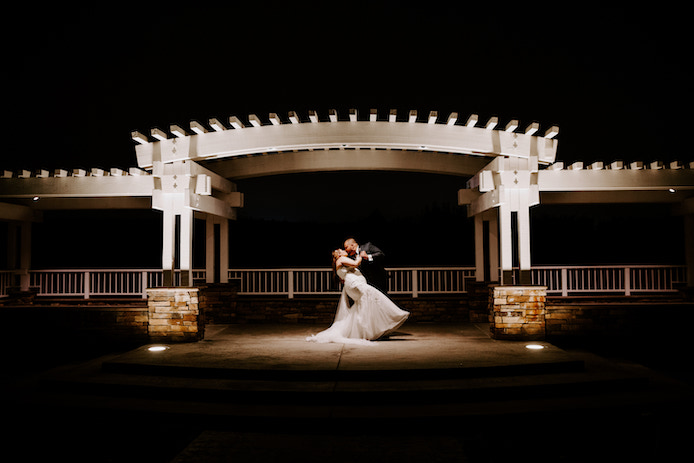 Vendor Love:
Venue: Mountain Meadows Golf Course
Photographer: Adilene Garcia Wedding 
Videographer: Reypak Creative
Event Rentals & Décor: 2Create Designs and C&L Linens Rentals
Florals: Alexander Flowers
Wedding Cake & Dessert: Some Crust Bakery – Nicole Smith
Wedding Dress: The Dresser Bridal Couture – Essense of Australia 
Bridesmaids' Dresses: Nordstrom – The Lucy Strapless Trumpet Gown
Groom & Groomsmen Tux's: Friar Tux
Hair & Make Up: Beauty By Betty – Betty Garcia
Wedding Officiant: Great Officiants – Octavio Quilichini
DJ: Mijo Entertainment – Richard Mojica
Photo booth: Mijo Entertainment
Invitations: Shutterfly