A Real Engagement Story: Lauren and Kevin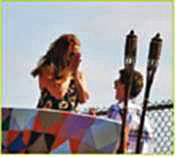 Meet Lauren and Kevin
. Kevin might be the most romantic guy alive, and Lauren is one of the most excited and sweetest brides the
Lomas team
has ever met. We wanted to share their story with you as you plan your
engagement, wedding, or private event
!
Kevin: "I began planning [the proposal] a few weeks in advance, calling individuals and providing dates & details. The plan was for Lauren and me to spend a Sunday playing at the beach, then grabbing some frozen yogurt before driving over to a BBQ – except that there was no BBQ in place. Instead, we took our yogurt to our favorite bluff in Solana Beach. Awaiting us was a picnic basket, flowers, her grandmother's hand-woven quilt, and a bottle of champagne. 
I got on one knee, pulled out the ring, and asked her to spend the rest of her life with me. With tears building up and one of the biggest smiles I have ever seen, she said YES. The picnic was set up by our best friends, who were all waiting around the corner. We popped the bottle of champagne and they all appeared to congratulate us! We proceeded down the hills where a limousine was waiting, and drove 30 minutes to her parents' house for a surprise engagement party. The day I asked my best friend to marry me was the happiest day of my life."
Lauren: "Kevin so seamlessly button up every desire I had for the big moment. It was intimate, romantic, fun, and it was us. He listened to every comment I had ever made about the "perfect engagement" and now it was my story. The love, the thoughtfulness, the heart, the playfulness of the day – these are all reasons why I am so in love with Kevin, and I am thrilled to be spending my life with him."
Start your own story today! Contact the
Weddings & Private Events Team
at Lomas Santa Fe Country Club, and let us help you create the engagement story, wedding, reception, or special occasion that you've always dreamed of having.