How To Unplug Your Guests At Your Wedding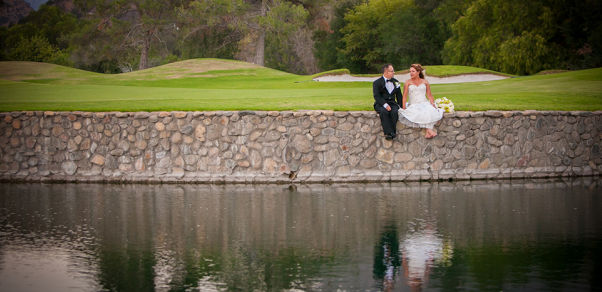 If you're in the midst of wedding planning, you might have already found your photographer and are now in discussion about how the day will roll out in photographs. As a modern couple, you also need to consider how to unplug your guests at your wedding.
Keeping cellphones off during the ceremony
It's the age of smartphones, tablets, new instant cameras, Instagram, SnapChat, and digital SLRs. It's almost a certainty that a few of your guests – at least – will be taking photos during your wedding. So how do you balance wanting photographs from your wedding taken by a professional photographer, and not insulting your guests and allowing them to have fun and take their own personal pictures?
What might happen…
Your aunt is excited. She's waited for years for you to get married, and she now has a fancy new iPhone from Christmas. You're walking down the aisle, and she's snapping photos on her phone, holding it out and – how do you work the flash? What is this Live Photo feature? She might not give it a second thought. She's well-meaning, but she's standing in the aisle, and has already ruined one – if not more – of the prearranged photos that your photographer is trying to capture. The photographer wants to capture the groom's face from the "bride's" perspective, but there's your aunt in the frame, holding her iPhone out in front of her, snapping away.
Or when the photographer takes a wide shot of all the guests, how many of them are holding up their phones or cameras, taking pictures of the couple? 
Before Your Big Day: Some Tips on How to Unplug Your Guests
Work with your wedding photographer to ensure you can make a small set of photographs (even only 5) available digitally to your guests within a couple days of the wedding – you can share these via email, your wedding website, Facebook, or the photographer's website.

Add a short blurb about your request on your wedding website, on the page with your ceremony details. Consider whether you're okay with photos taken at the reception or just the ceremony, and be specific.

You might even consider adding a card into your wedding invitations, in case people miss the website blurb
Suggested text for your unplugged request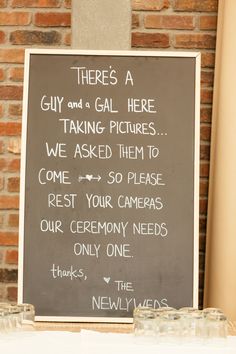 Please be nice & unplug your device! Too often we are distracted by all of technology's new toys. Today, please sit back, relax, and give your camera and phone a break. We have a professional photographer who will be taking photos, and we'll share these with you after our big day!
Please respect our Unplugged Ceremony. We invite you to live in the moment with us and turn off your devices, phones, and cameras. We've hired an amazing wedding photographer who will be capturing the day for us, so we respectfully ask that everyone consider leaving all cameras and phones off. We will be happy to share our wedding photographs with you afterwards!
We want you to be able to relax and have fun with us today! With this in mind, we invite you to keep all your favorite devices in your purse or bag! Enjoy the moment with us, and put your cellphones on mute too. Thank you!
Expert advice contributed by:
Melinda Garza, Private Event Sales Director - San Dimas Canyon Golf Course