How To Choose A Bridal Party Entrance Song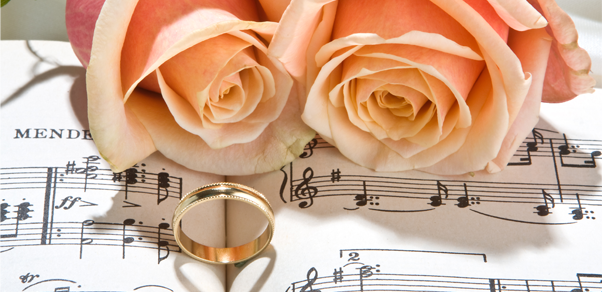 The bridal party entrance song is all about fun, fun, and fun! Whatever songs you end up choosing for when the bridal party enters the reception, the songs should be fun, engaging, and lighthearted, to match the mood of the moment. These songs will get everyone ready to have a good time at the reception and dance the night away. If you are searching for the best bridal party entrance songs for your wedding day, here are some suggestions:
Bride and Groom
A popular option is to choose two songs, one for the bride and groom's entrance, and one for the bridal party. For the bride and groom, the song should be both lighthearted and romantic. Remember, the moment you and your partner walk in and greet your guests during the reception is an important one—it's the first time that you will be greeting your family and friends as a newly married couple. The song should reflect that moment, so we suggest picking a tune that's upbeat, romantic, and positive. Something like U2's "Beautiful Day" or "Signed, Sealed, Delivered (I'm Yours)" by Stevie Wonder, or even "Crazy in Love" by Beyoncé are all fun choices that work perfectly for that moment.
Bridal Party
The bridal party song is a tune that will play as soon as your bridal party makes an appearance. While the bridal song can be romantic, the moment your bridal party pops in is all about fun. Ideally, the bridal party song should be something that will help to get the celebration going! Songs like "Get up Offa That Thing" by James Brown or "Lust for Life" by Iggy Pop are upbeat and tons of fun—these songs will help get people moving and having a good time. Another popular option for bridal party songs is allowing each of your bridal party to choose his or her own entrance music, and creating a mash-up of all the songs. This allows your friends to display their personalities and introduce themselves to those guests who might not know them well. This does require a bit of extra work, but the payoff is worth it in the end.
Whichever songs you end up choosing for your bride and groom entrance and your bridal party entrance, just remember that it's all about keeping the party going. Your songs shouldn't be overly sentimental or dramatic—they should be engaging, amusing, and upbeat. You want everyone—from your bridal party to your guests—to have a great time, so make sure that your music will keep everyone moving and grooving for hours to come!
If you're looking for a unique place to host your reception or the best wedding venue in your area, check out our locations page on Country Club Receptions, and find the perfect place to host your special day.