A Groom's Checklist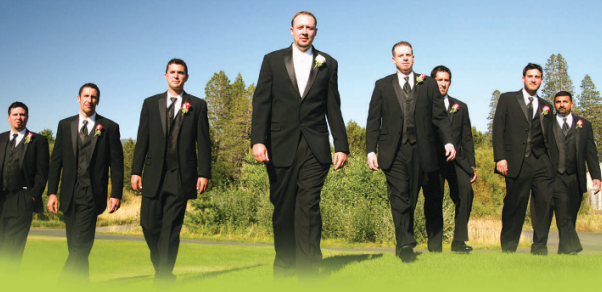 So you've decided to propose and you know the "right" time is coming up. What do you do now? While the involvement of the groom from proposal to wedding date widely varies depending on individual preference and familial expectations, here's a basic checklist of items to consider as you approach your wedding date.
12 Months Out
Shop for the engagement ring and plan the proposal.

Make sure to photograph or record the moment if possible.

Announce your engagement to family and friends! Plan your engagement party. If there's a specific style of venue you want, discuss your preferences with your fiancé and narrow down your choices to your top three, and visit those.

If you're in the New York City area and want to check out a premier wedding and reception venue, contact Tammi DeVito at Split Rock Golf Course for an appointment to view our pavilion and venue.

Choose a wedding date! Friday and Sunday tend to be more budget friendly.

Bridal Shows not your thing? Visit the vendors that are more to your interest, keeping in mind you'll need a tux and a limo.

Begin a rough guest list and compile current addresses from your side of the invitations. 

Decide on whom you'd like to have as your groomsmen, including your best man and ask each individually. Keep this list down as large parties cause more complications.
6-9 Months Out
Weigh in with your fiancé on anything you would like placed on the bridal registry. 

Order your tux and have the groomsmen do the same.

Order other groomsmen accessories: shoes, cufflinks, ties, vests.

Find an officiant who will perform your ceremony. If you're stuck, you can contact your wedding coordinator for suggestions, or your already-married friends.

Research vendor websites and blogs, schedule appointments to meet potential choices, and book ceremony musicians, a wedding band or DJ, photographer, videographer, caterer, and florist.

Discuss your honeymoon options.
4-6 Months Out
Select all stationary for invitations and wedding communications.

Select and purchase wedding favors.

Purchase any desired ceremony and reception decorations, including unity candles, vases, aisle runners, etc.

Start researching wedding cake options, and visit local bakeries for ideas (and tastings!).

Book your honeymoon and verify that you have any necessary travel documents ready, including passports and visas.

Book a room for your wedding night, especially if you will be leaving for your honeymoon the next morning.

Book hotel rooms and arrange other accommodations for out-of-town guests.

Finalize your guest list. Meet with the venue to discuss the menu and catering options.
2-4 Months Out
Find out what your state's requirements are for obtaining a marriage license. Get blood tests done, if required.

Have all alterations completed on tuxes.

Order your wedding cake.

Buy thank you gifts for your attendants, flower girl, and ring bearer.

Select and purchase wedding rings, and have them engraved if desired.

Coordinate and choose a location for the rehearsal dinner.

Contact party rental companies for tents, tables, arches, etc. if necessary. Or, if you're working with a venue such as Split Rock Golf Course, we'll contact these companies for you.

Book any other specialty services or add-ons, such as ice sculptures, photo booths, etc.
1-2 Months Out
Mail invitations to all guests, eight weeks prior to the wedding date.

Purchase a guest book, pen, and other wedding accessories, including toasting glasses, cake knife, ring pillow, etc.
2 Weeks to 1 Month Out
Create a seating chart for the reception and create table numbers and place cards. 

Send your caterer the final guest count.

Print out a timeline of events for your wedding party and vendors – include contact information and cell phone numbers.

Meet with your photographer to finalize your wedding photo list of any must-have photos.

Finalize your ceremony and reception music and song lists for your wedding band or DJ.

Confirm lodging reservations for out-of-town guests.
1 Week Before Your Wedding!
Write out final checks to your wedding vendors. Personal checks are usually not accepted, so prepare bank checks.

Pick up your tux.

Confirm limo or other transportation reservations.

Pack for your honeymoon and confirm travel arrangements.
Your Wedding Day!
Set aside some time before the festivities to relax. Visit to the barber for a touch up & shave if needed. 

Eat a healthy breakfast – do not begin drinking too early! Congratulations! Remember this is your day, so enjoy it!