Everything You Should Know About Your Wedding Rehearsal Dinner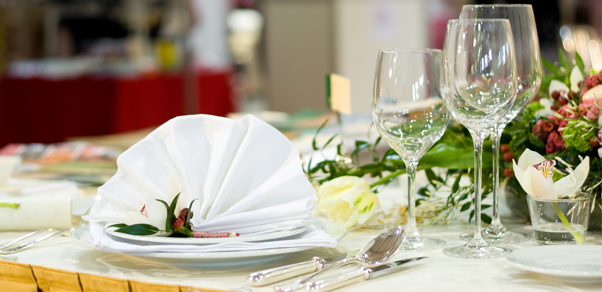 What is the wedding rehearsal dinner?
While the wedding rehearsal is all about practicing for the upcoming wedding ceremony, the wedding rehearsal dinner is more of a celebratory affair. Typically, the dinner is hosted after the wedding rehearsal—this rehearsal usually occurs on the day or night before the wedding—and the wedding rehearsal dinner serves as a wonderful opportunity for the couple's family to come together and celebrate with one another. 
Who is responsible for planning (and paying!) for it?
Usually, the groom's family hosts the wedding rehearsal dinner, and they usually handle all of the logistics (that includes payment!) that are associated with the dinner. Traditionally, the dinner is hosted at a nice sit-down restaurant or banquet hall during the evening, and the guests have an opportunity to dine with another and celebrate the upcoming nuptials. However, wedding rehearsal dinners are entirely flexible, as they can be a bit more formal (say, hosting the dinner at a ritzy five-star restaurant) or they can be a bit more casual (an outdoor picnic, for example)—it's entirely up to the bride and groom concerning what they're comfortable with. Remember, the wedding rehearsal dinner is all about celebrating the upcoming wedding. It should be more about having fun in the moment and celebrating love and family rather than over-the-top pomp and circumstance.
Who should I invite to the wedding rehearsal dinner?
Though you're probably planning on inviting a whole mess of people to your wedding, it's important to remember that the rehearsal dinner is really only meant for your immediate family and friends. Traditionally, your wedding party and any additional guests they might bring, such as spouses or partners, and you and your partner's immediate family should be the only ones who attend the dinner. When you're inviting guests to the dinner, one of the best ways to do so is to slip a separate invite to the dinner together with the main invitation for the wedding. 
What should I plan during the dinner?
During the actual dinner, it's considered appropriate for the groom and bride's parents to give a toast, but other than that, the entire affair is a casual one. This is an excellent opportunity for the couple to enjoy one another's company in a more relaxed atmosphere, and to celebrate the upcoming wedding with their family and friends.