Did Someone Say Bachelorette Party?
Words that come to mind when you hear "bachelorette party" might include: champagne, Las Vegas, getting wild, and nobody will know, right? Whether you're planning a party for the wild at heart or you'd rather look into a more relaxing ladies' weekend, here are some ideas (and links) to help you choose what you want to do.
Remember, a bachelorette party should be an event you look forward to, and planning it should be fun. The bride should always have a say in her party, even if some of the party remains a surprise.
Don't just hope for the best and let "the girls" take over all the details. Talk with your Maid of Honor and keep these ideas in mind when planning a celebration.
Where to Go
You could go anywhere for your bachelorette party, but the best choice is where YOU want to spend time with your friends! Have some activities pre-planned for the trip, but not too many to overwhelm your friends. Early mornings may be rough! Here are some examples of fun locations:
Okay, so we all know that, What happens in Vegas stays in Vegas! Heading to Vegas guarantees that you'll be able to find something to do during both the day and night, whether it's lounging by the pool in the afternoon and dressing up for clubs in the evening. Flying to Vegas is pretty simple, or—if you live close enough—you can always load up the car with snacks and take a road trip.
What To Do:
Dancing – There are clubs at almost every hotel, and whether you go clubbing or out to pubs or bars, you have a plethora of choices.
Shopping – There's more shopping options than you can shake a credit card at, but here are a few of the biggest:
Great Restaurants
– Some of the best chefs in the world can
prepare dinner
for you.
Shows
– You can find music, dancing, Cirque de Soleil, comedy, or
pretty much anything
your heart desires.
Casinos - They are in 99.9% of all the hotels in town, including in the airport and the stores!
Hotels with Fun Pools
WINE COUNTRY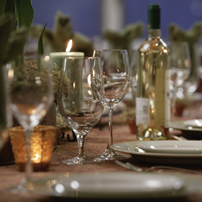 Another option for a bachelorette party is spending some time exploring wine country. You could stay at a hotel or resort, take a limo tour of the vineyards, and learn everything there is to know about the art of vino! There are plenty restaurant choices located at some of the vineyards and in nearby towns. And if you head up to Napa or Sonoma, San Francisco is only about an hour away.
In California, you have three major areas:
•
Central Coast
- Paso Robles, San Luis Obispo, Solvang, and Santa Barbara
BACHELORETTE GETAWAYS
If you're looking for a fun city or location to just spend time with your best friends and celebrate with less of a set schedule, here are a few California suggestions:
San Francisco
: You can always visit Union Square, the Golden Gate Bridge, Fisherman's Wharf, Restaurants, and Clubs  
San Diego
: Famous for the Gas Lamp District, Night Clubs and Dive Bars, Shopping, and Restaurants. Hang out on the Boardwalk, Mission Beach, and Pacific Beach
Hollywood
: A variety of Clubs, Restaurants, and Attractions. Stay for a night or the weekend!
Santa Barbara
: More Wine Tours, Restaurants, Beaches, and State Street 
Palm Springs
: Relax in the Desert's Oasis with lots of activities including golf, tennis, great restaurants, hot springs, and spas. Escape from the world.
Cruises
Last but not least, don't forget about a
cruise
! You could spend some time on the water with your best gals. Cruises offer tons of entertainment, pools, and delicious food and drink.
Who Plans The Party?
Now that you have an idea of where to go, you might wonder who actually plans all these activities. Usually, the bridal party and Maid of Honor plan the bachelorette party for the bride, but remember: as Bride, you do have a say, and who will be offended if the bride wants to have a bit of input into where she goes?
Suggestions for planning:
You choose the spot, and let your bridal party plan the details. (You could pick your top 3, and let them have the final say.)

When choosing a location and activity, be considerate and keep in mind your friends may have a budget to consider.

Give your Maid of Honor a list of phone numbers and emails to make it easy (you know you've gotten better at those spreadsheets during this wedding planning process!)
Picking a Day
When choosing a day and date for your party, you want to plan it within about a month of the wedding date, but not close enough that it will stress you out.
Remember, if you have out-of-town friends attending, another airfare and/or vacation day might be difficult for them, so make sure to see when they would be able to make the trip, and always confirm dates so that tickets can be purchased and plans made without incident.
Pick 3 good dates and send out a survey to see which date works best. A site like
SurveyMonkey
makes it easy. Picking a day is always a bit stressful, but these tips should help!
Ideas for the Party
Buy a photo album for your trip so you can print out some fun photos
(Photo tip: Make sure to have people in your pictures: it makes the scenery more interesting)
P.S. The Bride traditionally does not pay for the party. The host and all the bridal party usually chip in to cover her cost. Also, don't forget to send out the invitations in a timely manner!
With all the wedding planning that goes on, I wish you a happy Bachelorette Party, and one you'll always remember – whatever you choose to do in the end!