Sweeten Up Your Reception with a Sweets Station!
Looking for a Sweets Station that's fun for your guests and a delicious addition to your reception or private event? I know we've all seen the trend of Candy Bars and Dessert Bars at wedding receptions and private events – these displays are not just for the kids anymore!
Not only does a Sweets Station add a bit of fun to your event, but it can be customized to fit your theme: elegant, goofy, colorful – whatever your occasion calls for, you can find sweets to match! You can even coordinate the table by using containers, signs, linens and lighting that match the décor of your event. 
Here are some ideas to consider while building your Sweets Station:
Containers
Glass vases, metals pails, a burlap-wrapped pail or bucket, white-painted wood or metal, bedazzled, or lit-up containers.
Signs
Make a sign with directions for how to utilize the Sweets Station, and perhaps add a quotation that fits with your theme. Don't forget to order or create some cute bags with the name and date of your event so your guests have a memento to take away from your event!
If you're looking for something creative, I'd like to share a couple ideas some of our clients have come up with recently.
The Cereal Bar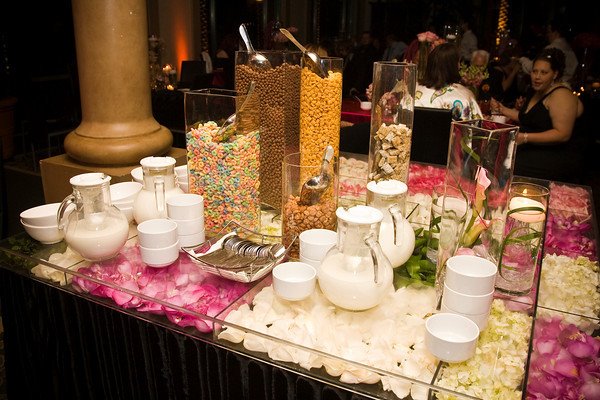 Remember all the fun cereals you had as a kid? Capn' Crunch, Cheerios, Apple Jackx, Cocoa Puffs, Fruit Loops, Lucky Charms, Cookie Crisps, Trix, and Rice Krispies? Set up these at a fun and festive cereal bar and let your inner kid out!
The Jell-O Bar

The Jell-O Bar can be geared towards adults only, or for the kids. You can mix and match different flavors, shapes, and colors of Jell-O, or fill Jell-O with your favorite liquor. Layer it or fill it with fruit!
A tip: add a little extra gelatin to thicken your dessert up for easier service. Or to create blue sky and cloud Jell-O, place the Jell-O in the glasses when it's halfway set, and spring for homemade whipped cream (not canned) for best results.
A Glow Bar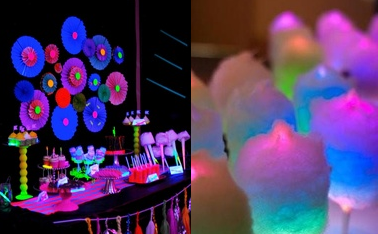 It's not all edible, but it sure is fun! This sweets station is a mixture of glow-in-the-dark necklaces, bracelets, and rings. Then you can light up the table for effect. This station is best in low lighting!
Yogurt Station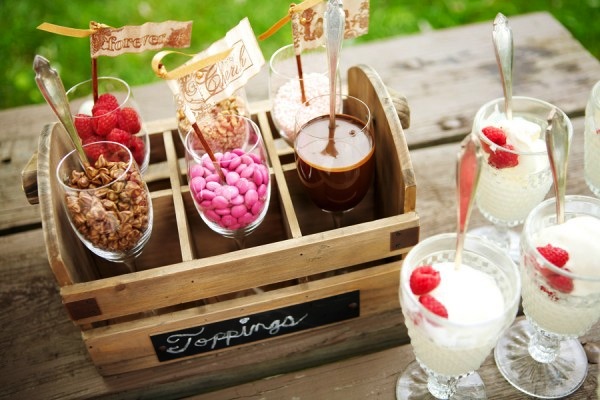 Looking for a healthy option for your Sweets Station? Choose different flavors of yogurt or Greek yogurt along with fruits, sauces, pretzels, granola, or some candy.
S'mores Station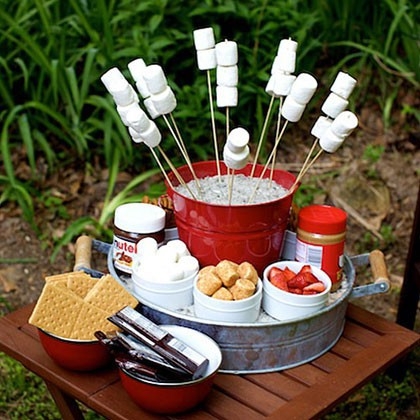 Need I say more? Just remember that this might not be the best option for younger children. You can also try mixing it up with Reeses added to the chocolate options.
Rice Krispy Treat Station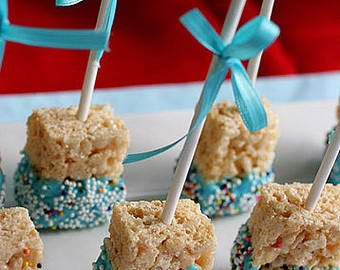 Dip your Rice Krispy Treat in colorful chocolate and then add sprinkles & toppings. A recent client came up with the idea to make the treats shaped liked paintbrushes, and then she dipped them in brightly colored chocolate for paint. It was an art-themed party!
Candy Apple Dipping Station

Carmel, chocolate, or white chocolate options! Use a variety of dips such as chocolate chips, raisins, marshmallows, Oreos, and sprinkles. Offer squeeze bottles to drizzle more colors on your apples, and shop to find some fun candy to coat them and make them outrageous!
Popcorn Bar

Choose your flavor: cheddar, caramel, kettle corn, butter, or plain. You can choose colored popcorn too. Add seasonings such as sour cream and onion, garden ranch, parmesan garlic, herb, buffalo wing, pizza, Cajun, taco, chili lime, chocolate marshmallow, salt & vinegar or BBQ. You can also add candied nuts to mix in or some chocolate-covered nuts. Your guests can mix and match the flavors to make their very own recipes.
Chocolate Fountain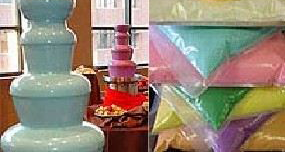 Chocolate fountains are so fun, but why not make them colorful? You can add coloring to brighten up the fountain, and then have snacks to dip into the fountain, like fruit, graham crackers, big marshmallows, angel food cake, chocolate bars, Rice Krispy Treats, cookies, brownies, pretzels, or anything else that you enjoy!
Trail Mix Station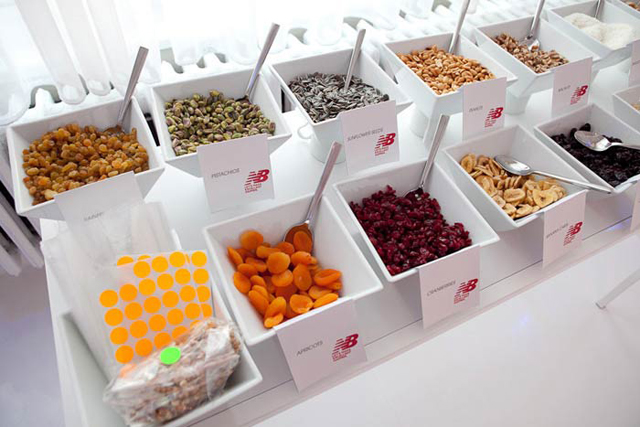 If you're looking for a healthier Sweets Station, why not try this for a custom healthy treat! Everyone loves trail mix, but not everyone likes the same mix. Throw in some dried fruit, M&Ms, all sorts of nuts, sunflower seeds, yogurt, or chocolate-covered pretzels, granola, and—for fun—something creative like animal crackers!
Pudding Sundae Station

Mm, pudding! Vanilla, butterscotch, chocolate, or tapioca flavors will do. Add homemade whipped cream, Oreo crumbles, slivered almonds, gummy worms, licorice, sauces, bananas, strawberries & maraschino cherries to top it off.
You have so many choices when it comes to planning your Sweets Station, but no matter what type of station you choose, always remember it's fun and you can be as creative as you want.