Real Wedding - Tina & Justin
How did you and Justin meet?
I was 24 and Justin was 28 when we met. We had our first date 6 years ago at Peppino's in Lake Forest. We had a great time getting to know each other and found out that we have a lot in common, from musical tastes, being the youngest child in our families, and the fact that we grew up just a few miles from each other. We went bowling after dinner and Justin beat me by a landslide. He later found out that he was supposed to go easy on me and felt bad about what he thought was quite an accomplishment. At the end of the date, Justin surprised me by giving me orchids. I thought it was very sweet of him, making it the perfect end to our night.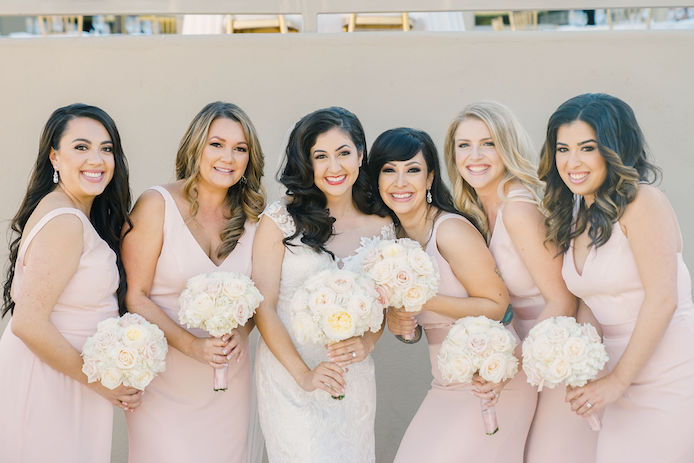 Tell us about the proposal!
Justin planned his proposal when I was in New York celebrating a bachelorette party with my best friends. He asked my parents for their blessing and they were ecstatic. A few days later, Justin took to me Peppino's in Lake Forest (where we had our first date), got down on one knee right in front of the restaurant, and asked me to spend the rest of our lives together. I was elated and in complete shock. I had absolutely no idea he was planning to propose, but it was the best surprise of my life. We sat at "our table" and I felt just as nervous as our first date. He asked me what I wanted to do next and I said that we had to go bowling so we could recreate our first date. Little did I know, he had already gathered our friends to surprise us at the bowling alley. I walked in and could not believe that everyone was there to celebrate with us.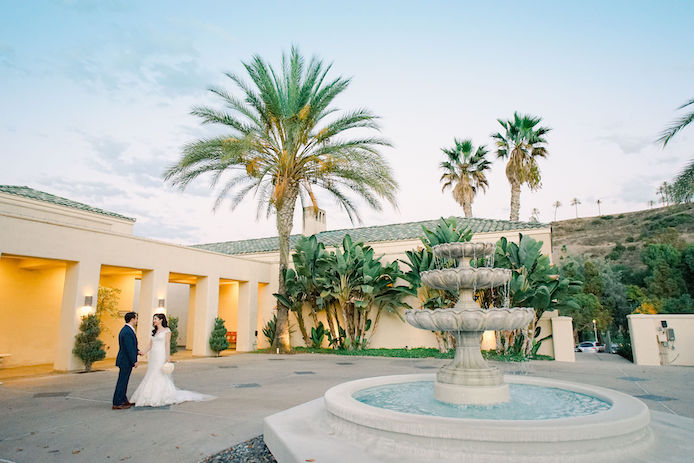 What was the deciding factor to have your wedding at Marbella?
Marbella was the perfect venue for us. From the time we entered the gates of the country club, we were surrounded by the beautiful scenery and felt like we had traveled far to this getaway, even though it was only a couple cities. The layout of the venue was great too, because guests were taken to different areas for each part of the wedding.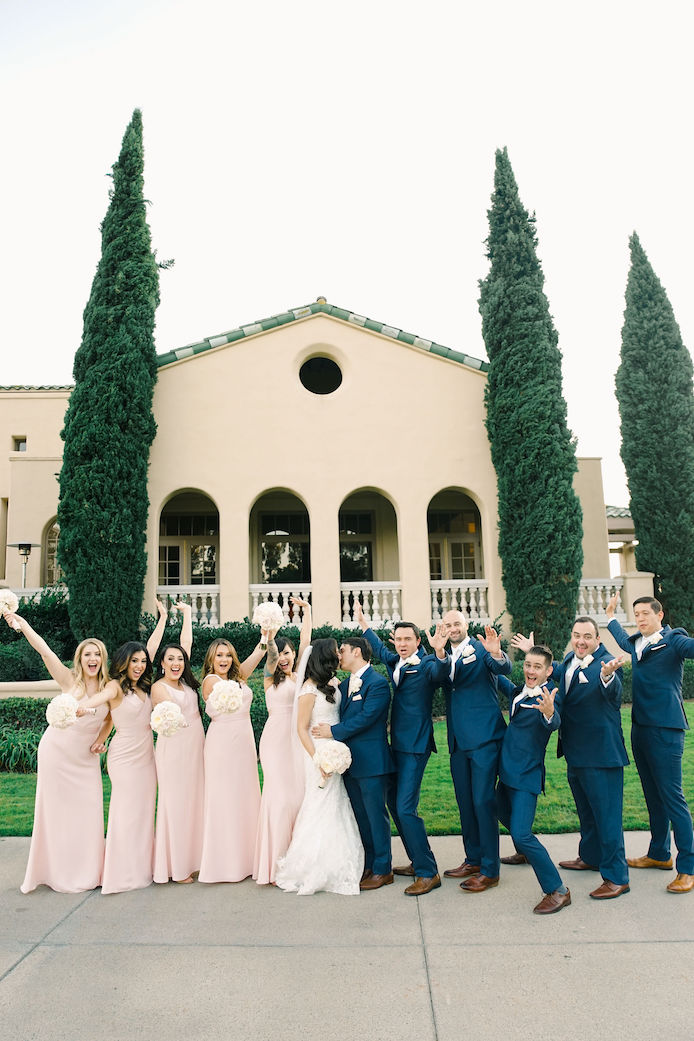 Were there any challenges you faced during the wedding planning process?
Wedding planning was very easy to us. We are both very busy people who know how to manage our time, so the wedding itself was a lot of fun to plan. We had a flood in our home which lead to a complete house remodel while we were wedding planning, so that was tough for a while, but the wedding planning itself was actually a lot of fun.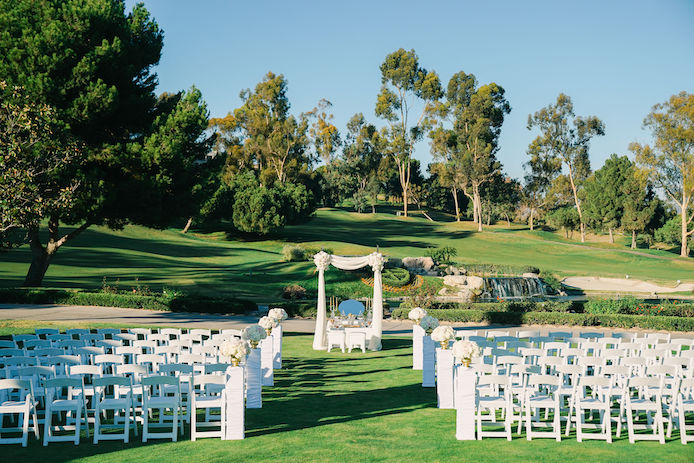 What were your ceremony & reception highlights?
During the ceremony, Justin surprised me by reading his words to describe me during our vows, which I wasn't expecting at all. He had the whole crowd (and me) in tears.
For reception, we had an 80s cover band, FlashPants, surprise everyone. The best part was when Justin got on stage to play guitar and performed "Sweet Child O' Mine" with the band.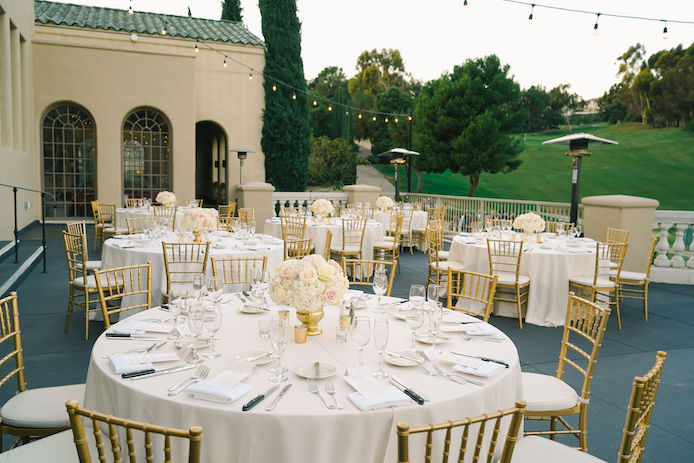 Vendor Love:
Venue: Marbella Country Club
Wedding Coordinator: Cindy Lee
Photography: Jim Kennedy Photographers (Megan)
Videographer: Royal Films (Tracy & Richard)
Cake: Sweet Traders
Band & DJ: FlashPants
Make Up/Hair: Vanity Belle
Florist: Ven Nguyen Flowers & Entertainment
Officiant: Mike Wright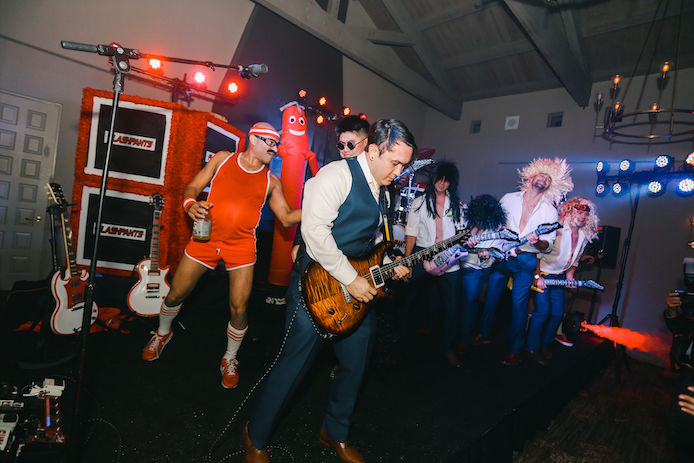 Event Date:
Saturday, October 20, 2018