7 Wedding Entrance Songs – From Chic to Unique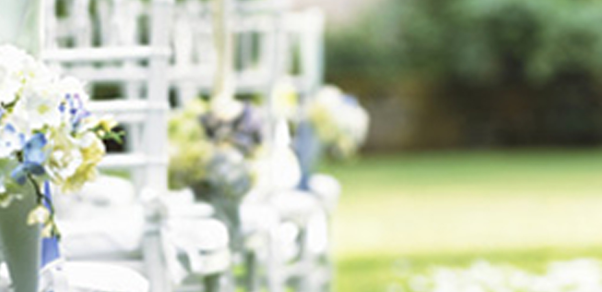 From the moment you get engaged, your life turns into a planning frenzy. Between dress fittings, cake tastings, ring shopping, and booking your honeymoon, many couples forget to focus on fine-tuning the details of their big day. One huge aspect of the wedding ceremony and reception that tends to get passed over is selecting the perfect wedding entrance song. However, not only does this song set the tone for your day, it is a reflection you—no longer individuals, but a newly married couple. What tone do you want to set? How can you make your big entrance special and memorable? We've compiled a few videos from weddings to help you decide what entrance you want to make!
Entrance #1- The Romantic Arrival
The British band Coldplay is known for its unique alternative, UK flair, but when fine-tuned, the hit song "Yellow" makes a beautiful ceremony entrance choice. It will not only be completely unexpected, but it sounds as if a royal princess is about to walk down the aisle. While any classic instrumental makes the ceremony entrance traditional, classy, and romantic—this tune in particular is perfect for couples who want to subtly make their mark without making waves.
The second video shows a couple who chose to have their wedding party walk down the aisle to a romantic instrumental version of, "If I Ain't Got You," by Alicia Keys. It's light and airy, perfect for a whimsical outdoor wedding, and boasts an element of elegance as well.
Entrance #2 - An In-Your-Face Entry
Who can forget the day Jim and Pam tied the knot on the long running sitcom, The Office? The dynamic duo selected the get up and dance song, "Forever" by Chris Brown. Ever since the debut of this awesome entrance, couples around the globe have put their own spin on this feel-good favorite. This is a great entry song if you and your partner are over the top, outgoing, and love to have fun. It's also a great choice if you want to do something unconventional and get the entire audience out of their seats (who couldn't help but dance and clap to this video?). If you choose to make an in-your-face entry, it is essential you have 100% cooperation of your wedding party, as everyone has to be willing to bust a move and let their personality shine. It's also something you have to spend a lot of time coordinating, so if you have a lot of wedding party members that live out of town, it may be difficult. If you can get it together, it's a great entrance song for large wedding parties with big personalities. After all, the day is all about celebrating your love, and with a ceremony or reception entrance like this, the celebration can begin immediately!
Entrance #3 - Personalized Entrances
These videos allow every member of the wedding party, from the parents of the bride and groom to each bridesmaid and groomsman, to personalize an entry song into the wedding reception. This option is a great way to showcase various individuals. When it comes to songs, absolutely anything goes! From Busta Rhymes to songs from the Rocky soundtrack, personalized entrances allow individuals to feel at ease when walking in front of a large group, as they are given a choice of entry music.
Entrance #4 - Contemporary March
This video shows how playing a song like "Marry Me," by Train can be completely classic, yet contemporary. It has a soft but upbeat tone and is ultra-appropriate for a ceremony entrance. It remains romantic and is perfect for couples who want to stray away from a traditional classically composed wedding party march, but still want something unique.
Entrance #5-Ultra - Traditional Entrance
If you are a traditional couple to the core, consider choosing a song that is absolutely synonymous with a wedding ceremony entry: "Cannon in D Major," by Pachelbel. This is a beloved song by brides of all generations. It is great to play if you are putting on a very formal affair or religious ceremony, as wedding ceremony songs set the tone for the event. There are many variations of this classic favorite, so whether you choose to have it played on a classic guitar, by a live string quartet, or simply as a prerecorded track, this sentimental tune will not disappoint.
Entrance #6 - A Sporty Entrance
If you both are huge sports fans, consider taking a cue from this happily married couple. They showcased their love for sports during their wedding party entrance at the reception. They even had their announcer state their wedding party's names in a sport-like fashion while ESPN-esque music played in the background!
Entrance #7 - A Royal Entrance
If you want to walk down the aisle of your reception like a princess, consider using these beautiful songs. The first video displays a song called "Princess Bride." Created by Roy Todd and from his The Wedding Bride's Piano album, you are sure to turn all heads with this royal sounding stunner. It is very traditional and perfect for old-fashioned brides that want to keep the ceremony serious and formal. The second video showcases, "Trumpet Voluntary," which was selected for the late Princess Diana to walk down the aisle as she wed Prince Charles back in the 1980s. It is also a classic and royal entry song, obviously fit for a princess (or someone who just wants to be one for the day).
Whether you choose to remain sophisticated and simple, or go big and bold when it comes to your entry songs at your ceremony and/or reception, it is essential to choose a song that truly reflects who both of you are as a couple, the type of event you wish to host, and a song that will always help you remember and treasure your special day!