Bronx Wedding Venues at Pelham Bay & Split Rock
Located in the Bronx — just at the edge of Westchester — you'll find Pelham Bay and Split Rock Golf Courses, the preferred Bronx wedding venues of many soon-to-wed New Yorkers. With their combined manicured grounds and elegantly-appointed interiors, Pelham Bay and Split Rock are two of the most unique places to wed near Westchester and create an unmatched location in terms of beauty within the Bronx.
Originally opened in 1901 and newly renovated, this site is one of the preeminent outdoor wedding locations in the Tri-State area. The historic setting provides refinement and beauty for any dream wedding. Perfect for groups of up to 200, its gorgeous natural setting provides the ideal backdrop for wedding photos while the ballroom's sophisticated interior boasts a distinct art deco flair.
The Great Room, which opens onto a patio, is a popular reception hall and perfect for cocktails, affording guests a spectacular view of the courses. The Pavilion is a unique space featuring vaulted ceilings and windows that wrap around the room, treating guests to spectacular, unobstructed views of this Bronx wedding venue.
Venue Details

870 Shore Road
Bronx, New York 10464

(718) 885-1258
View Map
Total Square Footage:
2,700
AV Available:
Yes
Ballroom Height:
10 ft.
Can Blackout Date:
Yes
Maximum Capacity:
Varies
Prefunction Space:
Yes
Valet:
Yes
Special Event Packages:
Yes
Wedding Venue & Reception Photos
Prepare for true elegance and refinement. Of all NYC wedding venues and banquet halls, true offer the level of luxury and beauty of Pelham Bay & Split Rock golf courses. Below, browse a series of recent reception and ceremony photos to see just how elegant the venue can be. No matter what you envision for your dream wedding, we're certain that our venue has everything you can possibly want and more.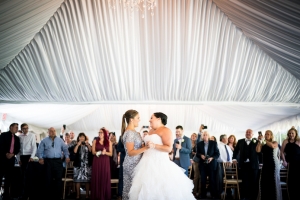 Venue: Pelham Bay & Split Rock Golf Courses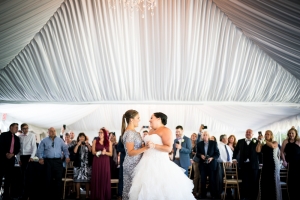 Danielle Monaco and Jacklyn Decker were married in an intimate ceremony on September 9, 2017, at Pelham Bay & Split Rock Golf Course in the Bronx, New York.  How They Met We've gone to school together since 1st grade and were friends all through middle school and high school...
Venue Highlights
Our Club has significent indoor/outdoor capabilbilites with gorgeous backdrop of the lush greens.  100 percent customized to your dream wedding.
One wedding at a time
Gorgeous patio overlooking the greens for cocktail hour or entire event
Vast beautiful areas for photographs all on-site
Booking Your Bronx-Area Wedding at the Pelham Bay & Split Rock Golf Courses
We look forward to helping you plan for your big day. If you're searching for a wedding venue in the Westchester or Bronx area, we have the perfect place for you. With plenty of room to accommodate family and guests and varying locations for any wedding plan, we certain that we can help you to create the wedding of your dreams. Reach out to one of our professionals below and we'd love to talk more about your big plans.
John Braca

Private Event Director

(718) 885-1258, ext. 229

John Braca began his career at AGC in 2012 as a Maitre'D and has since been promoted to Senior Private Event Manger. In 2002, he held his first catering job as a bus boy at the Surf Club, learning the ins and outs of the operations of the catering and event business from top to bottom. From a young age, he has been driven and team oriented, earning an All American in Track and Field in High School. In college, he was a Fashion major as he developed his eye for style. Eager to teach others to be passionate about working together, he currently coaches three cheerleading teams, who have won many titles. His drive, knack for style, and passion for working with others has made event planning the perfect fit for him. John takes great pride in working with his clients to create the perfect vision for each and every event.

Jessica Vazquez

Private Event Manager

(718) 885-1258, ext. 229
Event Spaces & Ceremony Sites
Bronx Wedding Venue Client Reviews
"Pelham Bay and Split Rock golf course helped make my fairytale wedding come true. There are not enough words to describe the beauty, service, food and professionalism of the staff at Pelham Bay and Split Rock golf course. Our every need was fulfilled above and beyond our expectations. People are STILL talking about our wedding and it's been five months already."

"We could not have been any happier with the service, food, and location and they made sure that our dream wedding became a reality. Our family and friends were so impressed with this location and service that they still talk about it. I definitely recommend this venue to anyone and everyone planning a wedding or just an event. You will not be disappointed! Most important thing to note about this venue is that it is a one event/wedding per night. Which means the service, attention to detail, food, staff, etc. is exceptional! You and your guest will feel like royalty!"