Palm Springs Wedding Venues at the Palm Valley Country Club
Palm Valley Country Club represents much of what is most iconic about Palm Springs. Much like the city itself, the course is a green oasis with gorgeous architecture, landscaping, water features, and more. Of the many area wedding venues, the Palm Valley Country Club is consistently one of the most popular, sought-after venues for engaged couples. As you'd expect with an open-space, golf resort event venue, the course can accommodate parties of up to 350 guests within its indoor an outdoor spaces. Viewing row after row of pristine white chairs set upon the velvet green lawn is a lifetime memorable feature that will add beauty and charm to weddings on the grounds. Add to this the ceremonial setting underneath an ornate arch, flanked by majestic trees with the jagged San Andreas Mountains in the background, and you have an idyllic outdoor location for saying your vows. Palm Valley Country Club has several different banquet rooms, each with floor-to-ceiling windows that take full advantage of the sweeping views of lush fairways, a cascading lake, and waterfalls.

The breathtaking golf course wedding scenery is sure to create the perfect photo opportunity
that will last you and your new spouse a lifetime. The Main Dining Room seats up to 300
while two adjoining salons accommodate more intimate ceremonies. Space can be opened up
to the Main Dining Room for a larger gala as well, ensuring that the Palm Valley Country Club is
the ideal location for a wedding of almost any size.{


Venue Details

39205 Palm Valley Drive
Palm Desert, California 92211

(760) 345-2737
View Map
Total Square Footage:
9,944
AV Available:
Yes
Ballroom Height:
25 ft.
Can Blackout Date:
Yes
Maximum Capacity:
300
Prefunction Space:
Yes
Valet:
Yes
Special Event Packages:
Yes
Wedding Venue & Reception Photos
Many couples choose Palm Springs for their destination wedding and for good reason. The area is shockingly beautiful with its juxtaposition of arid sands and oasis-like greenery. In recent years, Palm Springs and similar destinations have built in popularity as natural beauty and scenic views have become more and more in demand for wedding ceremonies. Our grounds at the Palm Valley Country Club are the hallmark of the Palm Springs area.

As you'll find in our photo gallery below, capturing the area's iconic beauty is core to the course. In both our large outdoor spaces — offering flexibility for planning — and interior venues, class and attention to detail are central to the space. Would you like to come see for yourself? Contact our staff via the info provided below.
Venue Highlights
At Palm Valley you will find a beautiful mountain backdrop and green grass, making it the perfect setting for your ceremony. Never lose the golf course view for your reception, with floor-to-ceiling windows showcausing the Golf Course.
Fountain behind your ceremony
300+ person capacity
Lake views
Booking Your Palm Springs Wedding at the Palm Valley Country Club
Our local team of expert event planners are ready to talk. In planning for a flawless wedding day that matches perfectly with your dream wedding vision, our team brings years of expertise and execution to the table. We look forward to connecting and discussing your big day more.
Casey Ging

Event Sales Director

(760) 345-2737 ext 2174

Casey has been in the event and service industry for over 18 years. She lived the glamorous life of a struggling actress in both New York City and Los Angeles. It was during this time she worked, managed, and helped to open some of the top fine dining restaurants in the country. She cultivated her knowledge for food, wine, and outstanding service during this time. She moved to the desert in 2008 where she continued her career in restaurant management while starting her first company, Desert Dream Parties - a children's entertainment company. She took her experience as a performer and turned it into magic. As the company grew her reputation as an "attention to detail" person, Casey was able to then focus on her true passion of high end event planning. In 2013 she blended all of her experiences and expertise and created her second company, Desert Dream Productions as a wedding and event planner. She has now joined the team at Palm Valley Country Club as Event Sales Director. She is extremely excited to work on events and tournaments at this outstanding club!
Event Spaces & Ceremony Sites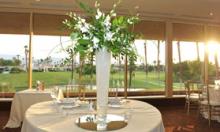 Featuring soaring cathedral ceilings and floor-to-ceiling windows – affording breathtaking views of the golf course, cascading waterfall and mountains, the Main Dining Room is a picture-perfect locale for wedding receptions, fundraising galas, corporate banquets and other large-scale events for up to 300 guests. A full-service bar and double-sided hearth add to the elegant but comfortable ambiance.
Palm Springs Wedding Venue Client Reviews
"We had an amazing time! Everything was so wonderful and you made this experience so effortless and fun!"

"Everything went so smoothly it was amazing. I have never had buffet salmon that well prepared and that goes for each of the servings provided. Everyone commented that it was a wonderful party and our friends from Palm Desert said it was the best party they had ever attended."