San Diego Wedding Venues at Lomas Santa Fe Country Club
 Lomas Santa Fe Country Club, located in Solana Beach, is the perfect wedding venue for couples seeking a sunbathed and glowing outdoor space for their big day. We pride ourselves increating unique and extraordinary weddings that reflect your personal style. From intimate parties of 50, to large celebrations of 250 (or 230 seated with a dance floor), we are committed to suit every requirement.
Wedding ceremonies are held outdoors on the grounds to take advantage of the stunning ocean vista and year-round gorgeous weather; making this is the perfect venue for your wedding in or around Solana Beach. The outdoor ceremony-site comes with a dramatic aisle to make a grand entrance, complete with the sunset nestling in the background for your vows. The newly renovated Ballroom presents a popular and modern-meets-rustic feel with vaulted ceilings, wooden
beams, and a blazing fireplace — radiating with a cozy, welcoming ambiance. The room's décor and architectural details, paired with the gorgeous view of the golf course and the ocean in the distance, provides plenty of visual pleasure for your guests to compliment the specially-prepared cuisine.
From getting your guests to Solana Beach to planning your use of the grounds, our friendly, experienced event team will assist you with every detail so you can focus on what's really important - celebrating your special day with family and friends. The combination of excellent service and a beautiful setting makes Lomas Santa Fe Country Club the perfect wedding venue to say, "I do."
Venue Details

1505 Lomas Santa Fe Drive
Solana Beach, California 92075

(858) 755-6768
View Map
Total Square Footage:
3,500
AV Available:
Yes
Ballroom Height:
Can Blackout Date:
No
Maximum Capacity:
250
Prefunction Space:
Yes
Valet:
Yes
Special Event Packages:
Yes
Venue Highlights
If you ask us, there's really no better place in the whole region to get married. This venue takes perfect advantage of the beautiful coastal views and weather. Your guests will fall in love with the grounds as they enjoy the exclusivity of a country club wedding and the perfection of our well kept surroundings.
Rolling sun-bathed grassy hills

Luxurious indoor spaces and modern designs

Ready to customize for your perfect wedding day

Chelsi Duff

Event Sales Director

(858) 755-6768, ext. 111

Chelsi started her American Golf career in 2012 as the Event Sales Assistant at Lomas Santa Fe Country Club. Later that year, she was promoted to Event Sales Coordinator, allowing her to work more closely with event clients on the details of their big day. After honing her skills as the coordinator and learning a customer service based approach with tremendous success, she was promoted to Event Sales Manager in 2016. She has received several awards while working for AGC, including a Team Synergy award and Legends Club, alongside her Director. Organizing upwards of 25 events per month, Chelsi reaches goals while still managing to innovate for her club and the company she represents. Chelsi has a strong background in design, having graduated from Fashion Institute of Design and Merchandising in 2010 with a degree in Visual Communications. This enables Chelsi to walk through not only the logistics of an event, but also the finer points of event design. Chelsi was born in Concord, California and currently resides in La Costa, Ca with her husband of two years. She enjoys cooking, traveling and spending time with her family.

Jordyn Haubner

Sr. Event Sales Manager

(858) 755-6768, ext. 107

My name is Jordyn Haubner. I am originally from San Marcos, CA and the middle child of three girls. I graduated from Long Beach State in 2018 with a BA in Communication Studies and a minor in Event Planning. I absolutely love traveling, I lived in Italy for 5 months and it was absolutely amazing. I am an animal lover and dog mom to Delilah and Oliver. I am so excited to be working at Lomas Santa Fe, events are my passion!

Samantha Pryor

Event Coordinator

(858) 755-6768, ext. 111

My name is Samantha Marie Pryor. I was born in San Diego and raised in Vista, CA. I am the oldest of three kids. I graduated high school form Rancho Buena Vista High in 2017 and am currently going to college at Palomar College. My ultimate goal is to graduate from CSUSM with a Masters in Business Management. I am passionate about music (all except country of course) and I love being around my friends and family. I am so excited to be working at Lomas Santa Fe Country Club and I cannot wait to see what my future here has in store!
Event Spaces & Ceremony Sites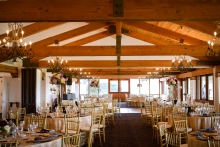 Highlighted by soaring vaulted ceilings, rich furnishings and an abundance of windows – affording sweeping views of the emerald-green golf course, the Ballroom is an elegant choice for wedding receptions, fundraisers, and other large-scale events accommodating up to 250 guests. An adjoining terrace is partially enclosed, making it available for use year-round.
Wedding Venue Client Reviews
"Excellent service, quality and would recommended without reservation! Krissi and Chelsi and the team at Lomas Santa Fe Country Club exceeded our expectations. They were professional, competent, caring and also very fun and easy to work with. They kept us on track through the entire process. Lomas Santa Fe will coordinate the ceremony. All went without a glitch. The wedding package offered was very reasonable and affordable. Included are beautiful chair covers, tablecloths, the cake and centerpieces. All of these can be upgraded if desired. We looked around at many different venues and this was definitely the best deal for the price. The location is beautiful! On clear days, the ocean can be seen behind the stunning ceremony site. There are so many spectacular places for wedding photos. We had an amazing day thanks to the team at Lomas Santa Fe. We would recommend Lomas to anyone getting married. The entire experience from the first site visit until the wedding day was perfect!"