Knoxville Wedding Venues at the Gettysvue Polo, Golf and Country Club
Located in the picturesque countryside near Knoxville, this east Tennessee wedding venue features rolling hills, rock outcroppings, and dramatic views of the Great Smoky Mountains, making it one of the most exceptional locations for your dream day in the Knoxville area.

Your guests will enjoy the dazzling views while you and your soon-to-be take advantage of the many beautiful photo-spots around this lovely property. An English-style clubhouse welcomes guests and provides a versatile event space suited for small gatherings or dinners. The Gettysvue Room accommodates up to 180 guests and features spectacular views of the greens, swimming pool, breathtaking sunsets, and includes access to the large terrace overlooking the grounds, making it the perfect location for your wedding ceremony.

For more elaborate events, the banquet rooms and outdoor areas can be combined to entertain up to 250 guests. On the other hand, if you desire a more intimate celebration, the Westland Room allows for elegant private dining, and the Fireside Room warmly welcomes close family and friends. This is one Knoxville wedding venue you don't want to overlook.
Venue Details

9317 Linksvue Drive
Knoxville, Tennessee 37922

(865) 522-4653
View Map
Total Square Footage:
2,500
AV Available:
Yes
Ballroom Height:
14 ft.
Can Blackout Date:
Yes
Maximum Capacity:
250
Prefunction Space:
No
Valet:
Yes
Special Event Packages:
Yes
Venue Highlights
Mountain views
Breathtaking sunsets
Exclusivity of a private club
Taylor Bryant

Private Event Director

(865) 522-4653 ext. 101

I am originally from Sanibel Island, Florida. I stayed in the area to get my Bachelor's in Hospitality Management from Florida Gulf Coast University. Since then, I have spent the last seven years working at different event venues planning and coordinating weddings, social events, and corporate functions. I moved to Knoxville a couple of years ago to get my MBA from UT and fell in love with East Tennessee. I'm so excited to join the wonderful Gettysvue team and get to know all of the great members!
Event Spaces & Ceremony Sites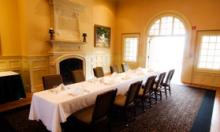 Highlighted by a charming fireplace and beautiful hardwood floors, the Fireside Room is an ideal locale for business meetings, rehearsal dinners, and other more intimate events accommodating up to 30 guests. A large terrace overlooking the golf course offers additional space for socializing and enjoying picturesque views.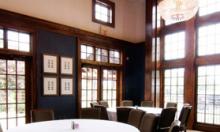 The Westland Room is perfectly suited for small gatherings of up to 20 guests, and features stately décor, an abundance of windows and two crystal chandeliers. Guests also enjoy access to the front terrace for al fresco dining and socializing.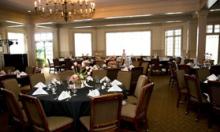 Featuring rich décor and an abundance of windows with spectacular views of the golf course, the Gettysvue Room is a remarkable venue for wedding receptions and other large-scale events accommodating seating for up to 130 guests and cocktail receptions for up to 200. An adjacent terrace enables guests to enjoy al fresco dining or beautiful sunset views.
Wedding Venue Client Reviews
"Gettysvue is a beautiful facility with a variety of locations for good wedding portraits. The food was absolutely delicious! The event coordinator was amazing, very detail-oriented and would respond to emails & questions quickly. She was very knowledgeable about all aspects of hosting/coordinating our reception (& also knew what to do when I got a lipstick smear on my dress, thank goodness!) The staff was very attentive to our guests. Everyone had a great time. We could not be happier with our wedding reception at Gettysvue Country Club and definitely recommend this venue."

"There was absolutly no glich our our perfect day! In fact, our wedding guests were so impressed that we now schedule our corporate Christmas Party at this facility...TOP NOTCH!"