Glendale Wedding Venues at Scholl Canyon Golf & Tennis Club
Perfectly situated amid the rugged Verdugo Mountains in Glendale, California, Scholl Canyon Golf & Tennis Club is the ideal Glendale wedding ceremony location for couples looking for a beautiful ceremony site and intimate setting for their special day.

It's hard to argue with these views. If you're interested in getting married in or around Glendale, Scholl Canyon should be at the top of your list in venue choices. The location of Scholl Canyon makes it a convenient destination for out-of-town guests and friends & family from all over Southern California, whether you are searching for a perfect Pasadena wedding location or a beautiful Burbank wedding site, we'd still be your best choice. The newly built ceremony site offers one of the best vistas of Los Angeles in all of the San Gabriel Valley, and the backdrop of the Verdugo Mountains provides ample photo opportunities for you and your loved one. The ceremony site can accommodate up to 400 guests.

For your reception, take a short trip over to the stunning Brookside Golf Club, our sister Club that offers full catering and special event amenities to put the perfect finishing touch to your wedding day. If you're searching for a one-of-a-kind, breathtaking option for your wedding ceremony, look no further than Scholl Canyon Golf & Tennis Club.
Venue Details

3800 E. Glenoaks Blvd.
Glendale, California 91206

(818) 243-4100
View Map
Total Square Footage:
3,000
AV Available:
Yes
Ballroom Height:
Can Blackout Date:
No
Maximum Capacity:
400
Prefunction Space:
No
Valet:
Yes
Special Event Packages:
No
Venue Highlights
The top highlight of our venue is — without a doubt — our views. Panoramic views of the Verdugo Mountains and downtown Los Angeles make this an unforgettable setting for a magical wedding day. More than views, though, Scholl Canyon is also a perfectly manicured course and that means lush green settings, beautiful landscaping, and perfection throughout.
Nicole Bergin

Regional Director of Sales

(626) 577-4497, ext. 206

Nicole began her career with American Golf in 2005 at Los Coyotes Country Club in Buena Park, California, while attending Biola University. She quickly advanced from banquet server to Sales Assistant, and then to Event Sales Manager before transferring to Pumpkin Ridge Golf Club in January 2009, when her family moved to Portland, Oregon. In October of that year, she signed on to be one of the first Catering Managers for the newly opened Allison Inn and Spa in Newberg, Oregon, but it wasn't long before she returned to her American Golf roots. She became the Private Event Director at The Oregon Golf Club in May 2010, and loved being there and assisting her clients for six and a half years! During her tenure at The Oregon Golf Club was awarded eight different "Best Of" awards from Oregon Bride Magazine. In addition, Nicole has received 6 awards from American Golf including being a back-to-back Legend Club Winner, American Golf's most prestigious award. Nicole was promoted to Regional Director of Private Event Sales in June 2015, where she assists in the training of other sales people within American Golf, and helps them achieve their goals. Nicole recently moved back to her home, Southern California, and started her career in American Golf, to be the Director of Sales at Brookside Golf Club at the Rose Bowl. Nicole and her husband (and high school sweetheart!) have a five year old son, Conor.
Event Spaces & Ceremony Sites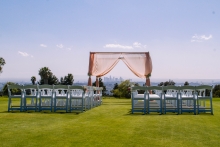 With room to accommodate up to 400 guests and boasting one of the best vistas of Los Angeles in all of the San Gabriel Valley, Scholl Canyon Golf & Tennis Club's ceremony site is a beautiful and unique choice for your ceremony, vow renewal, or intimate special event. We offer several affordable and memorable special event packages perfect for your wedding day, and even team up with nearby Brookside Golf Club to offer you more options for your reception and post-wedding festivities. Our ceremony site is also a charming and open space perfect for engagement photo sessions.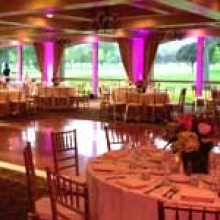 Want a bit more flexibility and amenities for your wedding reception or special event? Our sister Club, Brookside Golf Club, is located just down the hill and can be utilized for your reception, cocktail hour, or pre- or post-wedding gathering. Brookside offers reception packages and catering services, and we can help you coordinate with their team of event experts as you plan both your wedding and reception.