Long Beach Wedding Venues at El Dorado Park Golf Course
Our event spaces are perfect for your wedding or special event, and all include an impressive panoramic view of the golf course. Our Ceremony Lawn is surrounded by greenery and tall trees, which makes it an ideal backdrop for an intimate ceremony, large or small. Our Garden Pavilion features tile flooring, an elegantly-draped ceiling, and romantic string lights, giving it the ambiances of an outdoor venue coupled with the luxury of an indoor venue. It seats up to 350 guests. Our restaurant can accommodate up to 96 guests, and boasts decorative stained glass light fixtures hanging from the ceiling. A variety of menu options are available to fit everyone's taste, preference and budgetary requirements. Our in-house Executive Chef will work with you to customize menu choices to your liking. On the day of your event, our event staff experts will work to set up and execute every last detail to ensure the day is special and memorable for you and your guests. All of us here at El Dorado look forward to helping you plan a truly unforgettable event!
Venue Details

2400 Studebaker Road
Long Beach, California 90815

(562) 430-5411
View Map
Total Square Footage:
4,000
AV Available:
Yes
Ballroom Height:
20 ft.
Can Blackout Date:
Yes
Maximum Capacity:
350
Prefunction Space:
Yes
Valet:
Yes
Special Event Packages:
Yes
Morgan Caban

Private Event Director

(562) 795-7751, ext. 3

Morgan began her career with American Golf in 2011 at El Dorado Park Golf Course in Long Beach, California, while attending Long Beach State University. She quickly advanced from snack bar attendant to Private Event Assistant. After spending shortly over two years assisting in the Private Event department, the department manager moved onto another opportunity, and Morgan was promoted to Private Event Manager. Morgan has since been promoted to Private Event Director, and is still happily running the department at El Dorado today! Besides developing great relationships with both clients and vendors, under Morgan's leadership, El Dorado has seen steady growth in the Private Event Department. The venue was awarded WeddingWire's "Couples Choice" for the 2015 year- an award representing the top five percent of WeddingWire's wedding professionals. Morgan has also been personally recognized as a back-to-back Legend's Club winner - American Golf's most prestigious award. Outside of work, Morgan enjoys spending time with her parents, her brother, and her friends. She loves to spend time outdoors, and travel to new cities around the world, and taking pictures along the way.
Event Spaces & Ceremony Sites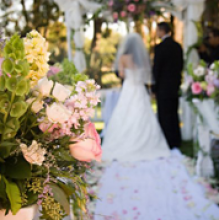 Situated above the eighteenth green and boasting breathtaking views of the entire course, this semi-private garden is perfect for anyone who's considering hosting a smaller ceremony and reception. Couples can rent a variety of different items to help personalize their wedding, including a white lattice archway, white garden chairs, a unity table, white aisle runner, and a white gazebo.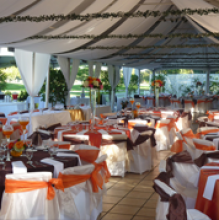 This stately, 4,000-square-foot reception pavilion features a number of delicate decorative touches, including chandeliers, soft accent lighting, and luxurious ceiling drapery. The pavilion is also located near a garden, so guests can casually walk between the two spaces. Featuring plenty of romantic backdrops for intimate and romantic photos, as well as audio/visual equipment included within the venue, this Pavilion is one of the best locations to host an event, large or small.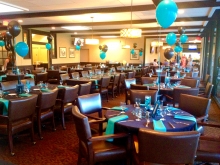 Accommodating up to 96 guests, our restaurant features floor-to-ceiling windows overlooking the course, as well as breathtaking stained glass light fixtures. The space can be rented for private events on select Saturday evenings. Please enquire with the Private Events Department for availability and menu selections.
Wedding Venue Client Reviews
"As the father of the bride, I could not have been more pleased with the services provided by the El Dorado Park Golf Course Event Center. They took my daughter's plans and executed them perfectly. The setting was beautiful and the venue was like a dream. The serving staff was incredible. Guests commented that their slightest requests were met within seconds. Having shopped for a venue, this was by far the best value we could find and we were not disappointed. The proof was on my daughter's face as she was able to experience the dream of a lifetime - the PERFECT wedding."

"El Dorado is an excellent venue to have your event. The tent and golf course are very well-kept. All of our wedding guests loved the food. El Dorado staff members all demonstrated exceptional levels of professionalism. All of our concerns were addressed promptly and they were able to work within our budget. It would be difficult to find another venue that could match the quality of service at the price El Dorado offers. We look forward to booking a future event!"