Acworth Wedding Venues at the Brookstone Golf & Country Club
Brookstone Country Club is one of the best wedding venues in Acworth, Georgia, with the look and feel of a distinguished country estate. Whether you're interested in finding a Marietta wedding venue, something in Atlanta, or specifically looking in Acworth, the facts don't really change. Brookstone Golf & Country Club is one of the region's most beautiful venues and if you'd like open spaces for your dream wedding, it's time to book a visit.

The clubhouse presents a gracious and welcoming atmosphere with Georgian columns, a marbled foyer, and spacious ballroom with expansive views of the course. If you'd like an outdoor setting for your wedding, it can be held on our beautifully-presented croquet lawn overlooking the golf course or under our attached covered veranda.

This beautiful wedding reception venue can comfortably accommodate up to 200 guests and both ceremony sites provide you with exceptional views of the manicured grounds and lush, tree-lined fairways. These amenities make Brookstone Golf and Country Club one of the most beautiful wedding venues in metro Atlanta. Your guests can dine and dance in our spacious, newly renovated ballroom featuring 20-foot-high ceilings; complete with an inlaid parquet dance floor, and decorative chandeliers. Our elegant environments ensure that your wedding day will be delightful from beginning to end.


Venue Details

5705 Brookstone Drive
Acworth, Georgia 30101

(770) 425-8500
View Map
Total Square Footage:
2,200
AV Available:
Yes
Ballroom Height:
18 ft.
Can Blackout Date:
No
Maximum Capacity:
200
Prefunction Space:
Yes
Valet:
No
Special Event Packages:
No
Wedding Venue & Reception Photos
If you want true southern charm and outdoor beauty within your dream wedding, there's no need to look any further. Below, you can browse various photos of our venue in Acworth and see the beautiful outcome of previous weddings. But don't stop there! To discuss your own wedding venue and see if we can help, get in touch further below.
Venue Highlights
Located in the hills of West Cobb, enjoy Brookstone's beautifully-landscaped croquet lawn and 1st Tee overlooking the picturesque fairway for your wedding ceremony or vow renewal.
Only one wedding per day
Indoor and outdoor event options
Newly renovated ladies bridal suite
Booking Your Acworth Wedding at the Brookstone Golf & Country Club


To begin the process of planning your dream wedding, contact our local staff below and we'll help to take it from there. We have years of experience in planning dream ceremonies in the Acworth area for newlyweds and their friends and family and cannot wait to help you see your dream wedding as well. Let's talk!
Bethany Rogers

Private Event Director

(770) 425-8500, ext. 245

Bethany began her career at American Golf in August 2008 at Brookstone Golf & Country Club after graduating from The Ohio State University and moving to Acworth, GA. She quickly advanced from Food and Beverage Supervisor to the Catering Director in March 2010. Bethany and her husband, Kyle have two children, Kensi and Kason, a black lab and 2 orange tabby cats. They love living in GA and being able to enjoy the outdoors year round. They also enjoy cheering on the Ohio State Buckeyes!
Event Spaces & Ceremony Sites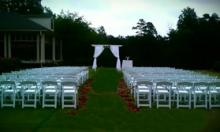 Our main outdoor venue, the meticulously landscaped croquet lawn, overlooks the covered verandah as well as tree-lined fairways and the lush golf course. Our main croquet lawn is ideal for exchanging wedding vows, but it's also great for other outdoor events, such as luncheons, birthdays, or corporate events and mixers.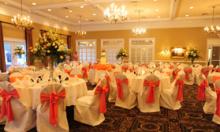 Boasting 20-foot high ceilings as well as a bar, inlaid parquet dance floor, chandeliers, and a pristine and luxuriously decorated ballroom, the Brookstone Ballroom is an excellent choice for festive receptions, fundraising galas, and other events. It can accommodate parties of up to 200 guests, and because of its elegant décor, it serves as a picture-perfect spot for wedding and engagement photos.
Acworth Wedding Venue Client Reviews
"Just wanted to send you a thank you and let you know how much we appreciate you and all your hard work for our wedding. Everything at BCC was perfect, and our reception could not have gone better! Thank you for listening to our ideas and putting them into action. You helped make our day extra special!"

"We cannot thank you enough for all your help during the planning of our wedding reception! Working with you as such a joy! We appreciated your professionalism, kindness, understanding and sensitivity to detail so very much! We were so proud to share with our family and friends this memorable day at such a lovely venue."